Suva Aloo Bhaaji (dill Leaves With Potato)
Dill Leaves are also known as "Suva " in Hindi, "shepu" in Marathi or "soa" in Punjabi. These are quite popular in northern India than in other parts of India. With the emergence of winters fresh green Suva leaves are available in abundance in market. The leaves have a very strong, pungent aroma and warm taste and can be paired with any salads, rice dishes, lentils, potatoes and almost with everything. Today I am sharing Suva Aloo Bhaaji. This easy recipe is just perfect for any occasion and promises a meal that everybody at the table will enjoy it. Here is the recipe for this great combination...!!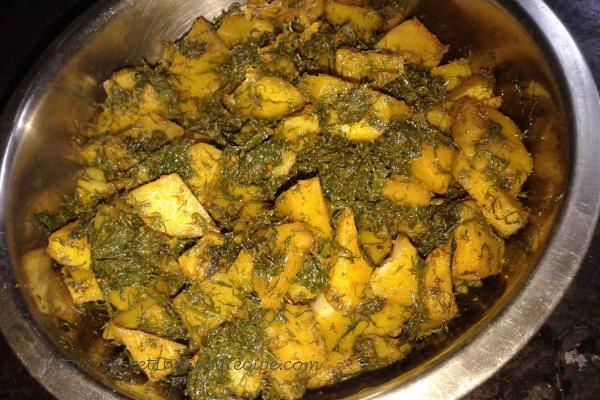 Ingredients:
Potatoes - 4 pieces (Peeled and cubed)
Dill/Suva leaves - 2 cup (Cleaned, washed and chopped)
Green chillies - 2-3 pieces (Chopped)
Cumin seeds - 1/2 teaspoon
Turmeric powder - 1/2 teaspoon
Coriander powder - 1 teaspoon
Red chilli powder - 1/4 teaspoon
Vegetable Oil - 2 tablespoon
Salt to taste
Directions:
In a deep pan heat the oil.
Once oil gets hot add cumin seeds, as soon as they start crackling add the green chillies.
Add the chopped potatoes, some salt and fry well.
Add in the turmeric, red chilli powder and coriander powders and stir.
Cook on low heat for about 5-7 minutes.
Now add in chopped dill leaves and mix well.
Cover and cook on low heat till potatoes are done.
Suva Aloo Bhaaji is ready to serve.