Sweet And Sour Stuffed Bitter Gourd
Bitter gourd is generally disliked because of its bitter taste. But it works as a medicine for people suffering from diabetes. This interesting recipe will help readers love bitter gourd because it is sour and sweet at the same time. It is easy to cook for beginners and homemakers as well and no special ingredients are needed. I learned this recipe experimenting with my mother. I love this recipe because of its interesting taste and also because my children love it.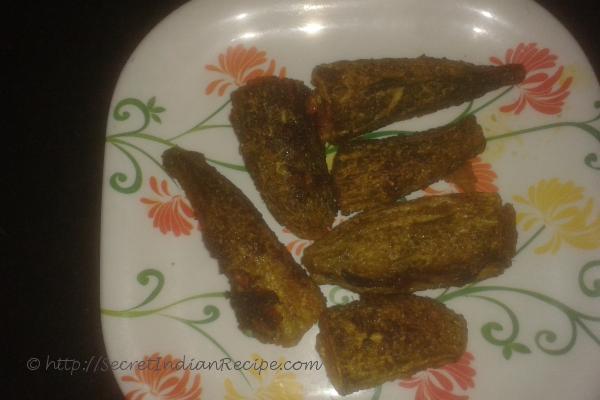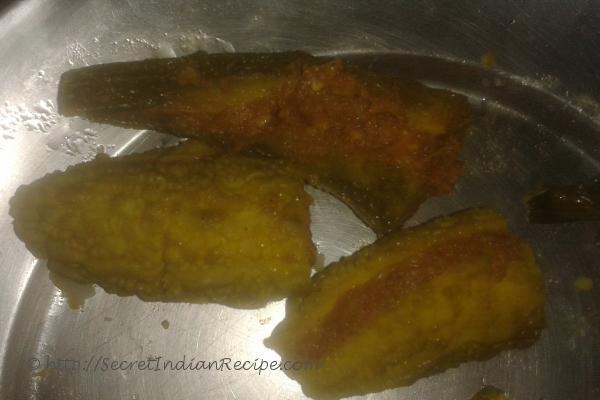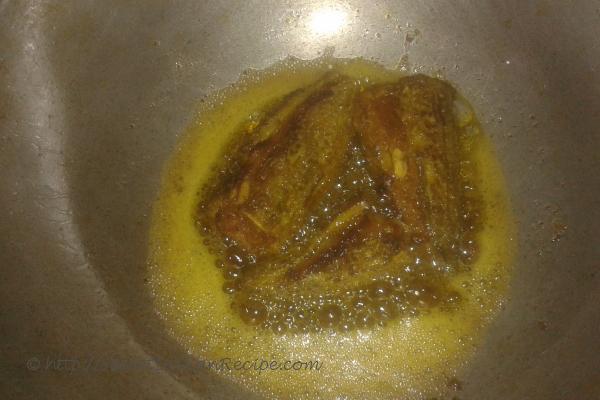 Ingredients:
Bittergourd (thick) -3
Onion-2
Coriander powder- 1 teaspoon
Jeera powder (Cumin)- 1/2 teaspoon
Kali mirch powder(Black Pepper)- 1 teapoon
Tomato- 1 medium sized
Tamarind pulp - 1 tablespoon
Turmeric powder- 1 teaspoon
Salt - as per taste
Chili powder- 1 teaspoon
Boiled Potato- 1 medium sized
Ginger- Garlic paste - 1 tablespoon
Sugar - 1 teaspoon
Jeera seeds- 1/2 teaspoon
Oil - 5-6 tablespoon
Bay leaf - 2
Directions:
For stuffing- Finely grind 2 medium sized onions and make a paste in mixer grinder. Finely grind 1 medium sized tomato, make ginger-garlic paste of 1 tablespoon. Boil 1 potato and mash it for stuffing. Soak 2 seeds of tamarind with its flesh in few drops of water for giving a sour taste.
Heat 2 tablespoon cooking oil in a pan. When its mild hot, add 2 bay leaves and few jeera seeds and saute till bay leaves turn red.Then add onion paste and ginger-garlic paste into the pan and fry till the paste turns light brown. Approximately fry it for 2-3 minutes on medium flame.
Add coriander powder, jeera powder and gol mirch powder to the paste. Add mashed potato and finely grounded tomato, turmeric powder and chilli powder. Fry this for 2-3 minutes on medium flame. Add tamarind soaked in water to the fried stuffing and seeds of boiled bitter gourd into the stuffing mixture(optional). Add salt as per you taste. Also add sugar to the mixture. Fry the stuffing for 2-3 minutes more until the stuffing starts leaving oil in the pan. The stuffing is ready.
Filling the bitter gourd- Cut bitter gourd into two halves. Vertically Make a slit in the middle of the halves. So you get 6 halves for 3 bitter gourds. Boil it in water with turmeric and salt for 15 minutes. Don't boil in pressure cooker as the bitter gourd will become over boiled. After the bitter gourd turns soft(use a knife to check whether it is boiled or not. if knife easily goes into the bitter gourd means they are ready to be taken out).Dry the bitter gourd by slightly holding in between the hands and press. don't press them too hard as they may break.
Remove all the seeds of bitter gourd, after the bitter gourd becomes soft. few seeds can be added while the stuffing is fried. Now open the boiled bitter gourd halves across the slit and start filling with fried stuffing (preparation is instructed above). Tightly fill the stuffing in the bitter gourd.
Shallow fry the bitter gourds filled with stuffing in cooking oil in a pan until the stuffed bitter gourd turns brown from all sides. Fry 3-4 bitter gourds at a time. Similarly shallow fry the next 3-4 stuffed bitter gourds in pan. Remove the pan from flame and let the oil dry on napkin.
Footnotes:
Serve this with rice or paratha. Tastes good when served hot.garnish with coriander leaves and grated ginger.