Sweet And Sour Veg Curry (chinese Style Sweet And Sour Curry With Vegetables)
Chinese curries fall into three major categories. They are either spicy like the schezwan, sweet and sour like this preparation or they are hot and sour like a manchurian. This is the easiest veg gravy you could do with a medley of vegetables and the best thing about Chinese is that you do not overcook them. Tossing them on high flame gives them a smoky flavour. And if you do Chinese get yourself a wok for the tossing, this lends a lovely smoked flavour and you could also do a flambe- the technique of setting your pan ablaze. You don't need to buy any commercial sauces to get that restaurant flavours try this recipe and you will get the same taste as in restaurants.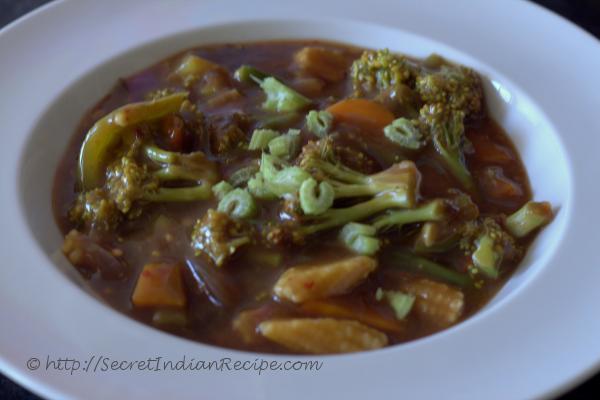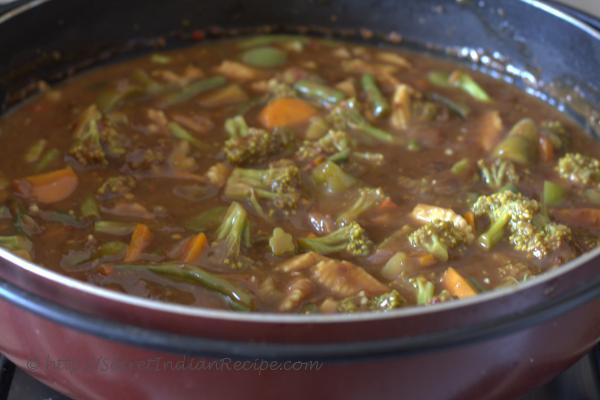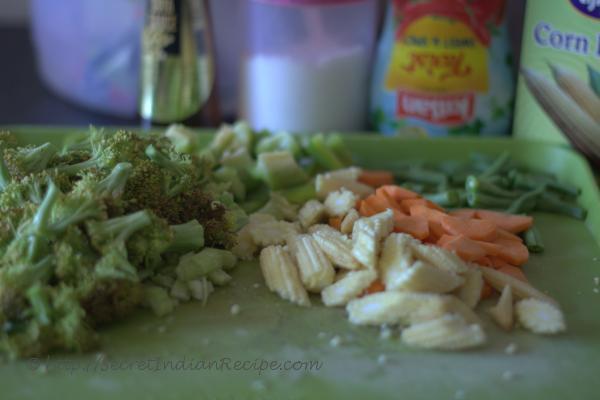 Ingredients:
Baby corn- 6-7
Capsicum- 1
Broccoli florets- 1/2 cup
Carrots- 2
Onion- 1
Beans- 5-6
Garlic- 8 cloves
Celery- 1 stalk
Soy sauce- 2 tsp
Vegetable stock- 1 cup
Tomato ketchup- 1/4 cup
Ginger- 1/2 inch piece
Salt- a pinch
Oil- 2 tbsp
Vinegar- 1 tsp
Chili flakes- 1/2 tsp
Pepper powder- a pinch
Directions:
Chop the vegetables and set them in a bowl. The cooking is going to be mostly tossing on high flame so set the ingredients beside you before starting.
Heat oil and add finely chopped ginger and garlic first. Let them brown and then add the diced onion, carrots, broccoli and baby corn.
Add soy sauce and toss the vegetables. Add chili flakes and pepper powder after 2 minutes and toss the vegetables.
Tossing the vegetables gives them a smoky flavour. Now reduce the flame and add the vegetable stock.
Bring the curry to simmer and add the ketchup. Check the spices; if you want it sweeter add more ketchup. Also check salt level.
Add chopped capsicum and vinegar and let the curry simmer for 2-3 minutes. Switch off the flame and garnish with some chopped celery or spring onions.
Footnotes:
For veg stock I usually boil the same vegetables listed in ingredients with some salt and celery for an hour and strain the water.
You can but use vegetable soup for stock. I use them if I am in a hurry. Use plain veg soup packet.
The vegetables should not overcook like in normal Indian curries. So add capsicum towards the end, keep tossing and adding the sauces.