Sweet Mango Idli With Raw Mango Sauce
I have used sweet mango and semolina to make idlis and serving with tangy raw mango sauce. #MyMangoRecipe Contest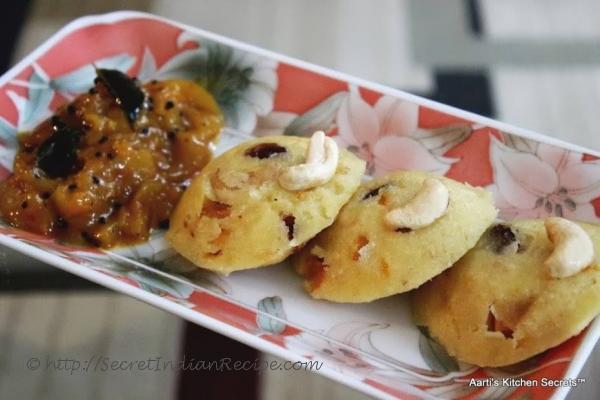 Ingredients:
For Idli : Ripe Mango – 3 tbsp (cut into small cubes)
Semolina – ½ Cup
Powdered Sugar – 4 tbsp
Buttermilk – for making the batter
Ghee – 2 tsp
Green Cardamom Powder – ¼ tsp
Coconut – 2 tbsp (grated)
Cashews – 1 tbsp (chopped)
Cashews - 8-10 slit into half
Almonds – 2 tsp (chopped)
Raisins – 8-10
For Mango Sauce : Green Mango – 1 (cut into small pieces)
Brown Sugar – 3 tbsp (increase the quantity, if mango is too much sour)
Mustard Seeds – ½ tsp
Curry Leaves – 5-7
Oil – 2-3 tsp
Turmeric Powder – a pinch
Red Chilli Powder – ½ tsp
Salt – ¼ tsp
Directions:
For Idli : Mix all the ingredients except raisins & slit cashews and pour buttermilk to make a thick consistency batter. Keep it aside for 20-30 mins. Grease the idli plate with ghee. Put a raisin and cashew in each idli casing. Now pour the batter over it and cook it for 3-4 mins in the microwave OR for 10-12 mins on the stovetop.
For Mango Sauce : Heat oil in a pan. Once it starts smoking add mustard seeds and curry leaves. When the mustard seeds starts spluttering add the mango pieces, red chilli powder, salt, turmeric powder and mix well. Once it is done add ½ cup of water and cover it and cook it till the mangoes get soft. Now add brown sugar. Mix well and turn off the heat.
For Serving: Serve hot Idlis with Mango Sauce.. Enjoy the delicious flavor of the mango and the crispy sweet taste of Idlis.