Sweet Pineapple Cake
Cake is one of the most favourite desserts in India.It has a variety of flavour and procedure to make.This preparation is totally homely and worth making.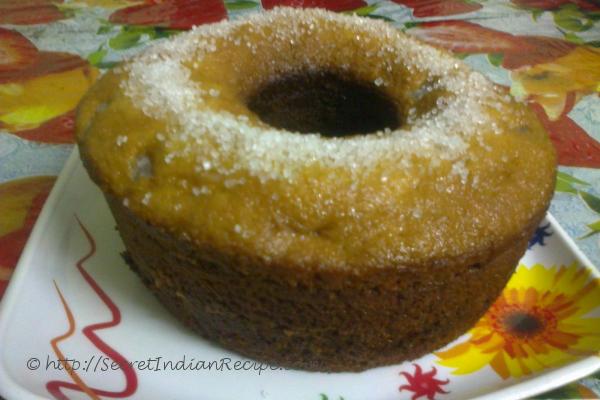 Ingredients:
Maida(Flour)-200g
Sugar(crushed powder)-200g
White oil-150ml
Egg-4pcs
Baking powder-1tsp
Pineapple essence-3tsp
Milk-1 cup
Petha,Cashew & Resins-100g All together
Directions:
Beat the sugar with milk and mix thoroughly so that no granules of sugar are left.
Then add the flour to the mixture little by little so that it doesnot forms any lump.
After a smooth mixture is formed, beat the egg with the mixture thoroughly.
Thereafter, add white oil and beat the mixture continuosly to make a smooth batter.
When a smooth batter has been made, add pineapple essence and mix properly.
Then, add cashew, petha and resins to the mixture and keep aside to settle the ingredients.
Now, take a micro-oven safe bowl and grease the surface of the container with oil.
Now tranfer the batter to the greased bowl and put it in microwave convection at 180 degree celcius.
Bake it for 30-40 minutes and take it out of the oven.
Footnotes:
Add all the ingredients one by one and not altogether.
Beat the mixture in a one way circular direction.