Sweet Pongal Recipe | Sakkarai Pongal Recipe | Chakkara Pongal Recipe
Sweet pongal recipe also known as sakkarai pongal recipe | chakkara pongal recipe is used to make on festival occasions. This is my favorite pongal recipe. I have already shared how to make ven pongal recipe. Learn how to prepare sweet pongal recipe with simple steps.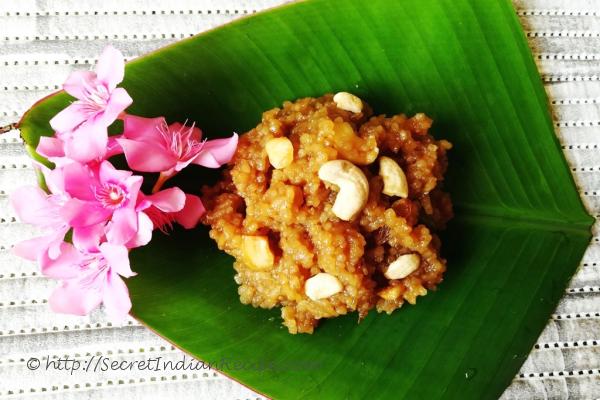 Ingredients:
Raw rice (pacharisi) – 1 cup
Jaggery (crushed) – 1 cup
Raisins – 15 grams
Cashew nuts – 15 grams
Ghee – 5 spoons
Cardamom – 3 no's
Honey – 1 spoon
Water to boil rice
Directions:
First wash the raw rice in water twice, then add water and soak for 10 minutes.
Switch on the stove place a pan and add 2 cups of water then allow it to boil.
When water boiling add raw rice then close the lid and allow it to cook up to 10 minutes. (After 5 minutes gap add cardamom powder and mix well)
Now check the rice whether it is cooked or not.
Next add crushed jaggery and mix well. then cook in a low flame until the jaggery merged well with rice. (Add 2 spoons ghee in this mixture to give good aroma and non sticky)
At this stage take a pan now add three spoons ghee when it is heated add raisins and cashew then fry until it will become golden colour.
Now add the fried cashews, raisins and 1 spoon honey in Chakkara pongal and mix well.
Now simple and delicious traditional sweet pongal recipe is ready to serve.
Footnotes:
In this recipe I didn't fry the rice and not adding moong dal.
According to your taste you can fry the moong dal and raw rice and prepare this Chakkarai pongal. (It gives another sweet taste of pongal
different style of sweet pongal recipe methods available like kovil sakkarai pongal recipe, sakkarai pongal brahmin recipe style (sakkarai pongal recipe iyengar) and sweet pongal recipe with sugar. This is a Kongu nadu style simple Chakkarai pongal recipe.
There are two type's jaggeries available in stores, one in dark brown colour and another in light brown colour.
Dark colour jaggery gives thick colour but less amount of sweet taste, light colour jaggery gives sweeter and less colour of pongal so according to this take jaggery level correctly.
Here I put jaggery raw, u can add filtered jaggery.
few people prepare sweet pongal recipe with jaggery and milk