Sweet Pongal/sakkarai Pongal/jaggery Pongal
Sweet pongal is a traditional dish in Tamil Nadu. During pongal festival time we make variety of pongal recipes but this sweet pongal is very special & common one. Here I have posted sweet pongal using jaggery which is very delicious. My mom follows the traditional method, but you can prepare this in pressure cooker also.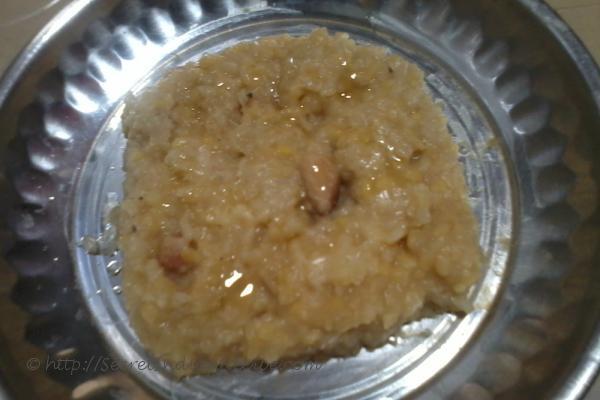 Ingredients:
Raw rice-1 cup
Moong dhal-1/3 cup
Jaggery -1 1/2 cup
Cardamom powder-1 tsp
Cashews & raisins -as needed
Ghee-1/3 cup
Water & milk ratio-3:1
Directions:
Keep the vessel on the stove add water and let it boil. Then add washed and soaked dhal and rice to boiling water.
When all the water has been absorbed, add milk and continue to cook. When rice is cooked completely, add jaggery syrup and mix well otherwise it will stick to the bottom.
Now add the fried cashew, raisins along with ghee. Add cardamon powder and mix it for the last time.
Switch off the stove when it is in liquid state so that it will come to correct consistency.
Footnotes:
We can increase the amount of milk in place of water. Here I used two cup of water & one cup of milk .. Ghee is added at last because if we add it before it will absorbs more ghee.
Cardamon powder is added at last to bring out the maximum flavor.