Sweet Potato Golfies
Crunchy Sweet Potato Balls-Good for all Occasions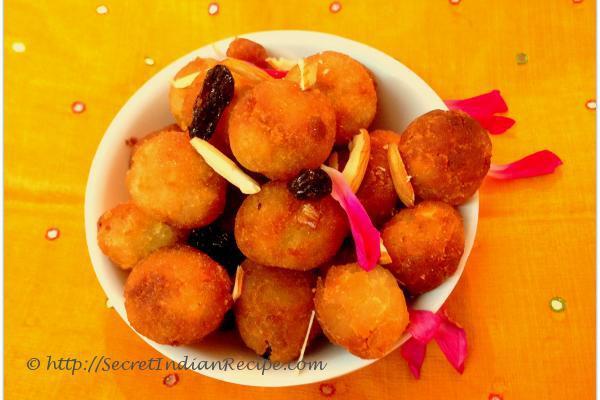 Ingredients:
Sweet Potato -250 gms
Rice Powder - 100 gms
Sugar - 100 gms
Dry Fruits - Cashewnuts/ Almonds/ Raisins - One Table Spoon each
Ghee for Frying - 100 gms
Directions:
Take the sweet potato. Wash it thoroughly. Cook till tender
Remove the skin. Mash it and mix it thoroughly with the rice powder making sure there are no lumps. Keep this mixture aside
Take a Saucepan. Heat little water and sugar, till it dissolves and becomes thick.
Now mix the mash and the sugar syrup and grated dry fruits with Raisins. Make it into a soft dough. Make round balls
Shallow fry the balls on slow flame till golden brown till. The balls should have a crunchy crust outside and should be cooked inside
Garnish with sliced almonds, raisins and dried rose petals to give the festive touch
Enjoy the dish for any occasion. Fast and takes a jiffy to make !!! Enjoy