Sweet Potato Gulab Jamun
My cousin told about this sweet potato gulab jamun for making this don't want too much ingredients & very easy to make.I tried myself came out very well my kid loved this very much instead of using instant jamun mix powder often I make whenever I bought sweet potato from market.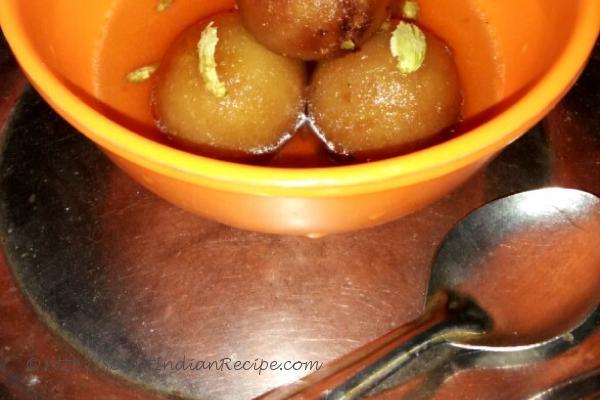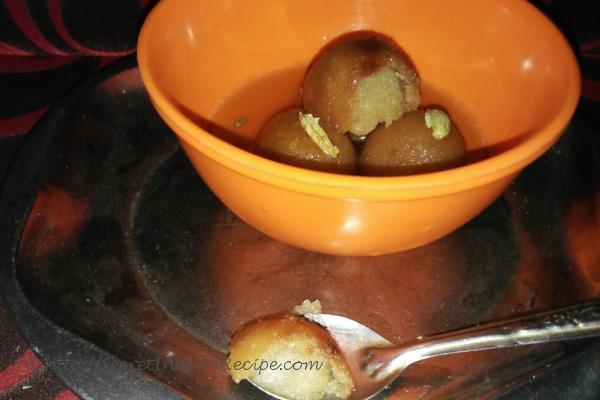 Ingredients:
sweet potato-2
all purpose flour/maida-1 tblsp
cooking soda-a pinch
edible camphor-a pinch
salt- 1pinch
sugar-3/4cup
water-3/4cup
cardamom-1
Directions:
Take boiled sweet potatoes, peel them, mash them roughly, put them in a blender and puree them or grate them.
Add in salt ,cooking soda& flour to them.knead to a soft smooth dough. Make sugar syrup by boiling sugar with water for 5 – 8 minutes. Add edible camphor and elachi and mix well.
Mean while roll small equal sized balls out of the dough we prepared. Grease your hands with ghee every time you shape the balls.Heat oil in a kadai, when it is hot, put the flame to low and drop the jamoons into it. You can fry few at a time, depending upon the oil you take. Put the flame to medium and keep turning every now and then to ensure even cooking.
Once deep golden in colour, drain in paper towel, repeat to finish all the jamuns. Give 2 minutes standing time and then add it to the sugar syrup.
Let them soak for 30 mins.Remove the jamuns carefully into a bowl and chill. Serve cold.
Footnotes:
Dont add too much maida, if your mix is sticky, then add another tblspn of maida. If you add too much maida then the jamuns will get hard. Putting the sugar inside the jamuns makes the jamuns soft and the jamuns soaks the syrup completely.
These jamuns will absorb the syrup faster, so if you leave the jamuns in the syrup for long time, then they will break up. Do not add hot jamuns in hot syrup. It will end up in shrunken jamuns. Also more liquid content in the dough will give unshaped jamuns.
Adding salt is optional, but without salt it will be too sweet. Dont add more than a small pinch. Make sure the sugar syrup is not watery. You can add a drop of rose essence if you like that flavour.