Sweet & Salty Adai
As life is full of ups and downs, here I share with all both sweet & salty adai to signify ups & downs in life!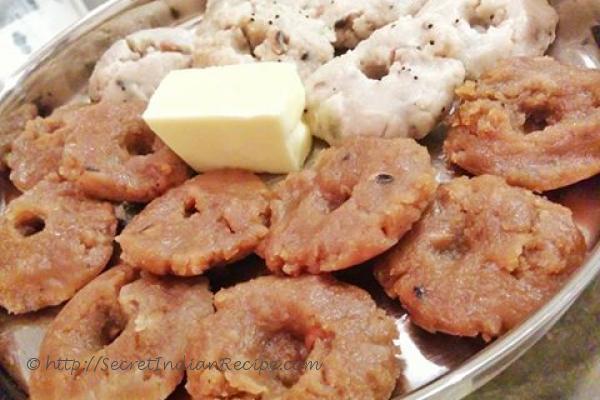 Ingredients:
For sweet adai Rice flour -
1 cup Jaggery
1 cup Water
2 cups Coconut pieces
3-4 tblsp Karamani/ black eyed peas
1/4 cup Cardamom - 1, powdered
For salt adai Rice -
1 cup coconut
4 tblsp Karamani
1/4 cup Salt
As needed Oil
1 tsp Mustard
Directions:
Wash and soak rice for 1 or two hours. After soaking, drain water completely and spread it in a clean kitchen towel.
Mean while, roast karamani and 7 other grains(optional)– I used channa, black urad, green moong, finger millet, red milltet, mocha kottai, dried peas . Roast until karamani starts golden and nice aroma wafts. Let the flame in medium flame
Soak in water until you do the other works.
Now the rice flour, let the cloth absorb excess water. Say for 30 minutes. Grind it to a fine powder in a mixer. Sieve it and if you get more remains(coarse rice in the sieve) again powder it sieve to prevent wastage.
This will yield 2 cups plus little more. So you can use it for this recipe. 1 cup flour for each, sweet and salt version. Boil 2 cups water in a heavy bottomed vessel, add jaggery and dissolve it completely.
Filter the jaggery to remove impurities in a metal strainer. Bring to boil again and add the karamani we soaked drained from water. Simmer the flame and add the flour in a sprinkled way. Mix it while you add briskly with other hand to avoid lump formation.
Continue stirring in a mashing way, to break the lumps if any. When it becomes a lump as in the picture below, switch off the flame. It takes some time, so keep stirring. When it forms lump, it may look sticky, but after cool down, it will stiffen.
For salt version, heat a heavy bottomed pan with oil and season with mustard, green chillies, curry patha , asafoetida. Add 2 cups water,mix salt to it. Bring to boil. You can add a pinch of asafoetida at this stage for extra flavour
Simmer the flame and add the rice flour little by little as you mix with the other hand.
Cook in medium flame, this will thicken soon than the sweet dough, so be prepared for that. When it forms as a lump, switch off the flame and transfer to another vessel.
By now the sweet dough would have cooled down. Make equal sized balls, flatten in well greased hands and make a hole in the middle. When u make hole, dip the finger in sesame oil to make it easier. Arrange in plate/ idli plate
Repeat the same for salt version and make equal size balls and flatten in well greased hands, make a hole in the middle. Arrange in greased idli plate and steam for 5-8 minutes
You can use store bough rice flour also for this preparation. Make sure you reduce the flame when you add flour and keep stirring to avoid lumps in the dough.
If few lumps are there, it will break as we keep stirring, no need to worry. Roasting karamani adds a great flavour, not only that, it also makes it cook easily.
The longer it gets soaked, it will easily get cooked and be soft in the adai. If you want, you can even boil the karamani to cook it before adding. Keep the prepared dough covered, as it will become dry while cooling down.
It it is too dry, sprinkle water while you make adai. Otherwise the edges will be cracked.
You can add grated coconut in place of chopped coconut, both has its own texture and taste. Longer the time you soak karamani, sooner and soft it will get cooked in the adai. The sweet dough takes longer time to get stiff. So keep stirring. You can
Add finely chopped ginger in salt adai while tempering…