Sweet & Sour Corn & Cottage Cheese Salad
Well ! if you are looking for a recipe which is both healthy and tasty, this one is just perfect. It is nutritive, full of healthy veggies, curd, paneer etc with sweet and sour taste of tamarind chutney. This is just perfect for dinner or breakfast.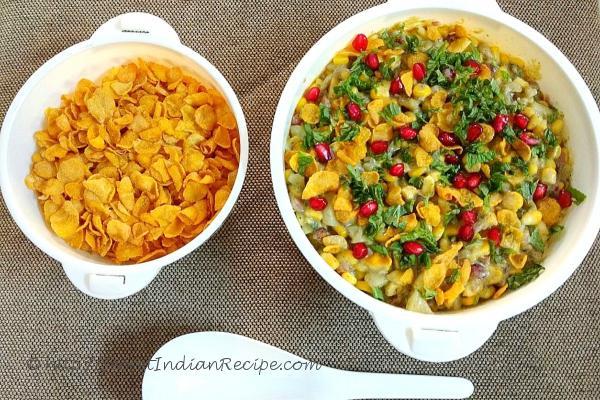 Ingredients:
For the Salad
• 2 cups Sweet Corn
• 100 gms Chopped Paneer cubes
• 2 tsp Clarified Butter (ghee)
• 4 tbs Pomegranate seeds
• 1 Boiled and Chopped Potato
• 2 tbs Chopped Onion
• 3 tbs Chopped Tomato
• 20-30 Mint Leaves
For the Dressing
• ½ tsp Mint Powder
• ½ tsp Roasted Cumin Powder
• ½ tsp Salt
• ¼ tsp Black Pepper Powder
• ½ tsp Chaat Masala
• 4 tbs Hung Curd
• 2 tbs Tamarind Chutney
• 2 tbs Coriander Chutney (without green chili)
• 1 tbs Olive Oil
• 1 tbs Lemon Juice
For Garnishing
• Few Mint Leaves
• 4 tbs Cornflakes
• 2 tbs Pomegranate seed
Directions:
1. First of all take paneer cubes and lightly roast them with ghee till it gets golden in color.
2. Saute the sweet corns in the same pan for 3 minutes and take out.
3. Now take a big bowl and add all the ingredients of dressing in it. Mix it very well till it gets smooth and all mixed well.
4. Add sweet corn, paneer cubes, potato, tomato, onion in the dressing and toss them well.
5. Now add pomegranate seeds and mint leaves and mix gently.
6. Our salsa is ready. To give it little crunch we added cornflakes on the top and garnish with some mint leaves and pomegranate seeds.
Footnotes:
Notes: Add cornflakes only when you are ready to serve otherwise they will become soggy www.foodiediaries.in