Sweet & Spicy Raw Mango Pachadi
Sweet & Spicy Raw Mango Pachadi is my favorite. There are many ways to make this recipe but here I am narrating how my mother makes it. The tanginess in the mangoes, sweetness from the jaggery, the spice ness from the chillies...all blended together..it so yummy..I love to eat with curd & sambar rice.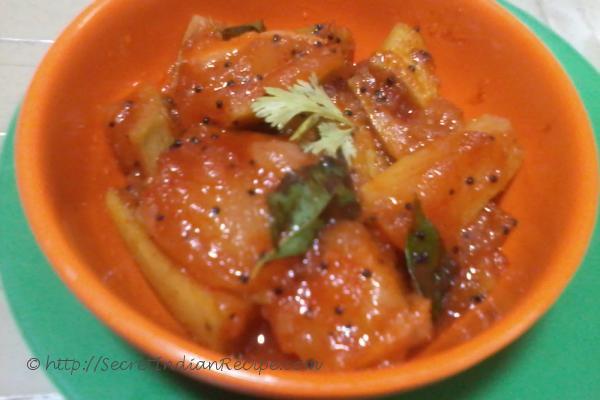 Ingredients:
Raw mango-1 big
Jaggery-100gm(i used jaggery syrup)
Chilly powder-1 tsp
Salt -to taste
Water- as needed
To temper:
Mustard seeds-1 tsp
Urad dhal-1/2 tsp
Curry leaves - few
Oil- 2 tsp
Directions:
Wash the mangoes, peel off the skin and chop them into medium pieces. Heat a pan, add little water say 1/2 cup of water(or till immersing level) then add raw mango pieces, chilly powder & salt. cook until soft .
Meanwhile in a pan add jaggery along with little water(immersing water)...heat it up for few mins till its slightly thick. Strain to remove impurities.
When the raw mangoes are cooked well add jaggery syrup & mix well on low flame. Allow it to boil till it comes to jam like consistency.
Meanwhile heat oil, add ingredients 'to temper', allow it to splutter. add the temper to the pachadi. Give a quick stir.
Serve it with sambar rice or curd rice.
Footnotes:
Choose sour raw mangoes which is very apt for this recipe. You can store it in refrigerate & use for 2 days.
You can adjust Sweetness & spiciness according to your taste.