Szechuan Beef (beef Cooked In Szechuan Sauce)
I love this dish so much that I keep ordering it at every Chinese joint. Finally my hubby thought we should have our own version because each Chinese joint had their own version and we were not happy with any of them. This recipe was given to me by a friend whose family runs a Chinese restaurant in Italy. I have appropriated it a bit for our Indian palate. The same recipe applies for chicken, pork and fish.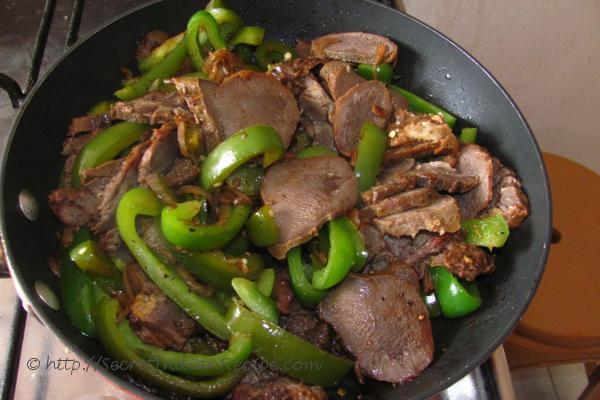 Ingredients:
Beef strips- 500 g
Star anise- 3
Soy Sauce- 2 tsp
Brown sugar- 2 tsp
Rice wine vinegar- 1 tbsp
Peanut oil- 1/4 cup + 3 tbsp
Chili paste- 1 tsp
Sesame seeds- 1 tsp (optional)
Capsicum- 1
Ginger- 1 inch piece
Garlic- 3 pods
Onion- 1
Directions:
Make the schezuan sauce by mixing the rice vinegar, soy sauce, brown sugar and chili paste in a bowl.
Stir fry the beef strips in 1/4 cup peanut oil after marinating it with salt.
Heat 3 tbsp of peanut oil and when it smokes add the star anise and let the flavors infuse into the oil.
Add the finely chopped ginger and garlic and toss them in the pan.
Add the onion and capsicum and toss them. Do not overcook them.
Add the schezuan sauce and let the gravy simmer. Add the beef strips now.
Coat the beef strips in the sauce and add some salt.
You can sprinkle the beef with white sesame seeds before serving. I did not have sesame seeds so I omitted this step.
We love this curry with some mixed fried rice. But it can be had with plain rice as well.
Other Indian Recipes that you may Like !