Tadka Maggie Recipe | How To Make Tadka Maggi
It is the kind of maggi which is loved by even those who are not fond of maggi (though such people won't be many). The tempering gives a very typical flavour to maggi, the typical Indian flavour. Of all the maggi recipes on the blog, this one is my favourite. Do try this recipe because it is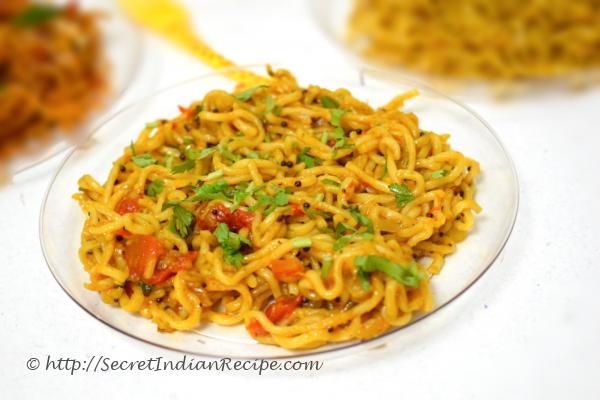 Ingredients:
maggi noodles
oil
mustard seeds
small onion
small tomato
green chilli
Salt
coriander
Dry masala
Directions:
Boil Maggi noodles
In a pan boil 3 cups of water. Bread and put 1 pack of maggi noodles in it. Let it boil for 2 minutes. Strain the boiled noodles and keep aside. Tip: You may drizzle few drops of oil on the boiled and strained noodles. This would prevent them from sticking.
Prepare tempering and cook onions
Heat 2 tsp oil. Add 1/2 tsp mustard seeds. Let them crackle. Add 1 chopped onion and cook till translucent.
Cook tomato, green chilli and spices
Add 1 chopped tomato. Cook till soft. .Add 1 chopped green chilli. Add 1 tsp coriander powder, 1/2 tsp red chilli powder, salt to taste and 1/4 tsp turmeric powder. Cook for 1 minute.
Add boiled noodles and maggi masala
Add boiled noodles. Add little water. Add maggi masala. Mix well.