Takachi Kadi/yogurt Curry
This is one of my most favorite curry. My son loves it too, and it is very easy to make.Though I have given measurements for this curry you cannot go wrong because you put too much of one thing or less of one item.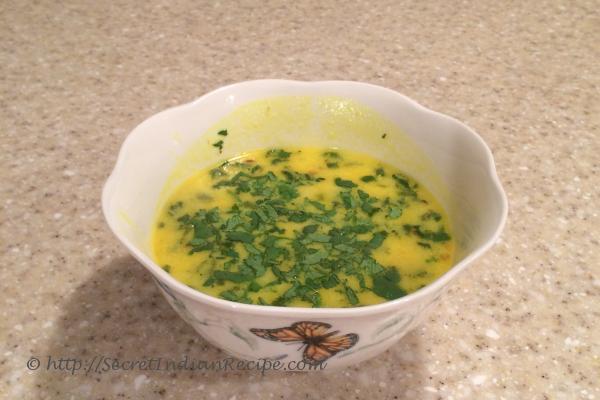 Ingredients:
1 cup yogurt try using whole milk yogurt
1tbsp chick pea flour or all purpose flour.
1tbsp paste of ginger and garlic (optional)
3tbsp oil
For tempering cumin seeds, crushed coriander seeds, hing, mustard seeds
1 tsp turmeric powder
Salt to taste
Chopped green chili or red chili powder to taste.
Fresh chopped coriander leaves for garnishing
Directions:
Blend together the first 3 ingredients and set aside.
Heat oil in a sauce pan and when hot add the tempering.Let sputter.
Add the yogurt mix and the rest of the ingredients except coriander leaves
Bring to boil, add water as needed to make the consistency you want. Let boil for about 5 to 8 minutes, stirring occasionally and be careful it does not boil over.
Sprinkle with coriander leaves before serving and serve with white rice or vegetable pulao