Taldhari Lapsi ( Broken Wheat Sweet Dish)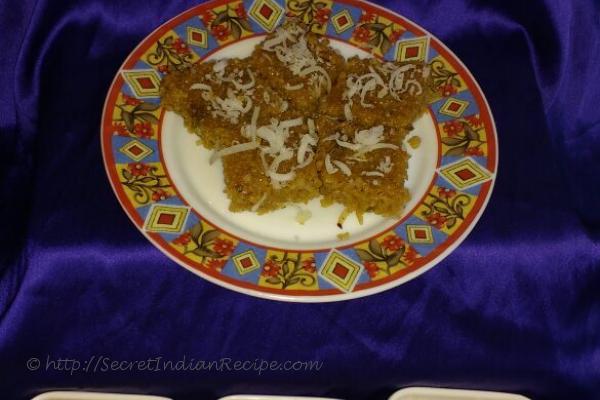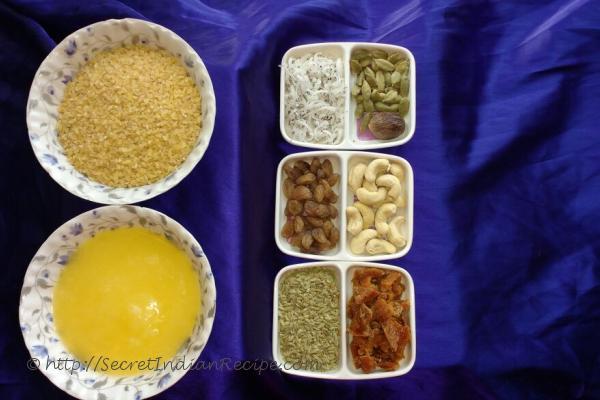 Ingredients:
Ingredients for Taldhari Lapsi
Broken Wheat (Daliya) - 1 cup
Chopped jaggery - 1 cup
Ghee - 1/4 th cup
Pieces of Cashew nuts - 1tbsp
Raisins - 1 tbsp
Saunf - 1 tbsp
Powder of 8-10 Cardamom
Nutmeg powder (Jaifal) - 1-2 pinch
Grated coconut - 1 tbsp
Directions:
Heat half of ghee in a heavy bottomed pan, add the broken wheat. Saute on a high flame till it turns pinkish brown.
In a pressure cooker, add sauted daliya, put 2 cups of water and let it cook until 3 whistles.
In a pan pour the remaining ghee, let it heat, add pieces of cashew nuts, raisins, saunf and grated coconut.
Then add jaggery. Stir till jaggery melts. Once jaggery melts, add cooked daliya and keep on stirring so it does not stick to pan.
Once ghee starts oozing out from the sides of the pan add cardamom powder and pinch of jaifal and mix it well.
Lapsi is ready, place it in dish and make pieces.