Tamatar Ki Chutney (roasted Tomato Chutney)
Roasted tomato chutney is yummy and easy to prepare. The lovely colours on the table light up your mood and brighten your meal. My family loves this recipe. It goes well with rice and chapattis.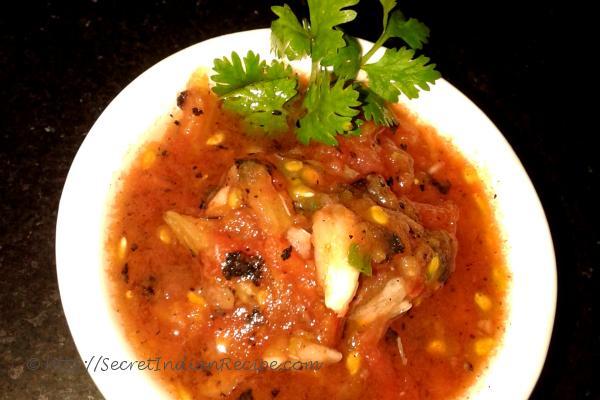 Ingredients:
Tomato 2 Pieces
Green chillies 2-3 Pieces
Spring onions 3-4 Pieces
Garlic 4-5 Pieces
Salt to taste
Coriander leaves for garnishing
Directions:
Wash the tomatoes well.
Using knife, prick tomatoes on all sides carefully and roast them direct on the burner, at medium flame. It takes 3-5 minutes.
Roast till the skin of the tomatoes scorches and starts peeling off.
Remove the tomatoes and let them cool.
Now peel the skin off, and mash the tomatoes.
In a blender, blend together green chillies, garlic, spring onions, required salt to a rough paste and mix well with the tomato mixture.(Blend it only once. Do not make a smooth paste.)
Serve chiled.
Footnotes:
Keep chutney in the freeze before or after serving.