Tamater Aloo(tomato With Potato)
Tamatar aloo is a easy to make side dish recipe.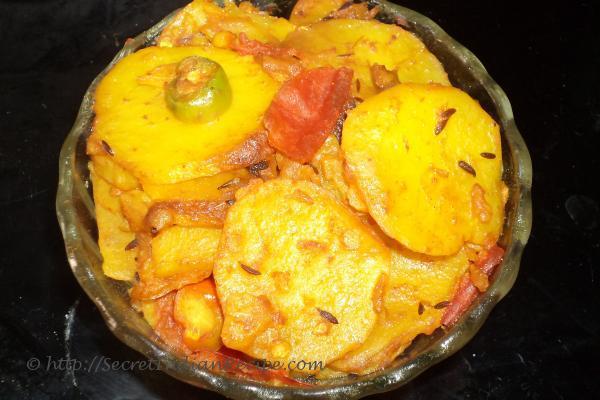 Ingredients:
Potato - 4 mid size (peeled off and sliced)
Tomato - 2 mid size chopped
Salt to taste
Turmeric powder - 1 tablespoon
Garam masala - 1/2 tablespoon
Red chili powder - 1/2 tablespoon
Green chilli - 4 chopped
Oil - 4 tablespoon
Directions:
Heat oil in a medium pan. Add the tempering of cumin seeds, let it brown, then add asafoetida. Add potatoes, sauté til it become soft .
Now add the salt , garam masala, red chili powder,turmeric powder and mix well.
Add tomato and green chili ,don't mix , cover it and cook for 5 min on low flame.
open the lid mix the tomato with potato , cook for 2-3 min. your dish is ready to be served.