Tamil-bengali Sambar
Sambar is mostly an important dish South India but South Indian foods are of great demand in North India as well as in Bengal.
So this South Indiamn recipe has been modified a little in a Bengali way.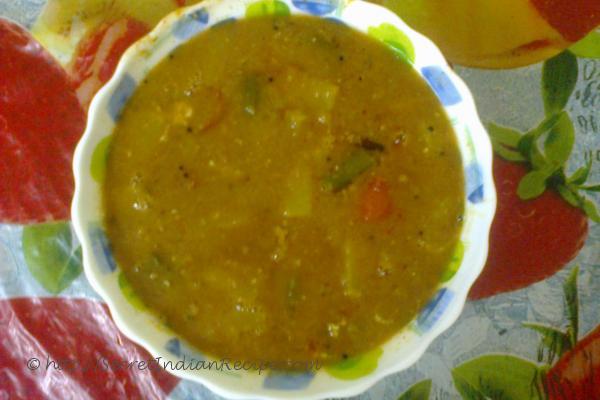 Ingredients:
Tur Daal- 300
Drum stick- 3nos
Pumkin(cut into small pieces)- 100g
Cauliflower- 1small
Sambar powder- 3tsp
Mustard seed- 1tsp
Curry leaves- 8-10
Salt & Sugar- To taste
Tamarind paste- 50g
Chopped onion-1pc
Tomato- 1pc
Channa Daal- 1tsp
Red chilli whole- 2nos
Directions:
Boil the tur daal and keep aside.
In pan add oil and fry all the veggies.
Now add the fried veggies into the daal and boil for sometime.
When the daal starts boiling add the sambar powder, tamarind paste and mix well.
When the Daal is well cooked, keep it aside.
In a small pan, heat the oil and add the mustard seeds, red chilli whole, curry leaves and channa daal.
When the mustard seed starts crackling, add it on the Daal and serve hot with Plain rice or Dosa.