Tandoori Aloo (potatoes Grilled In Tandoori Spices)
Tandoori aloo is an easy starter with cooked potatoes marinated in the tandoori masala. I cooked mine over my barbecue grill but you can use your microwave or oven for grilling the potatoes. I am not sure of grilling this on a pan. Whenever we have leftovers of this aloo I stuff it with some tomatoes, onion and ketchup into a roti or bread.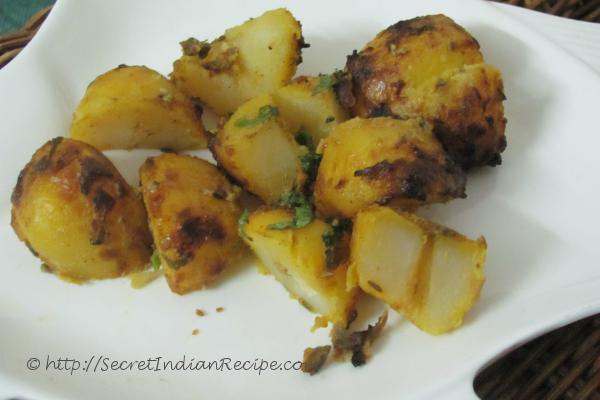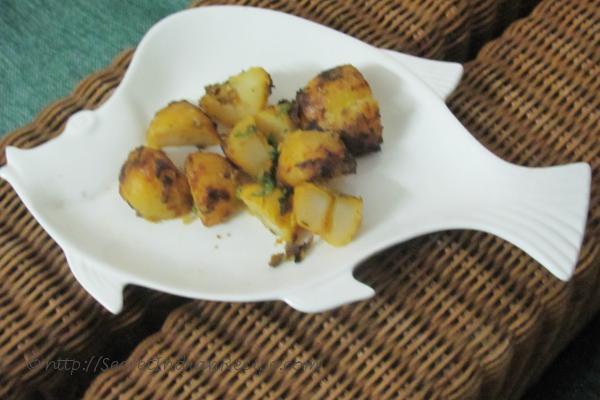 Ingredients:
Potatoes- 250 g
Ginger garlic paste- 1 tbsp
Chili powder- 1 tsp
Garam masala- a pinch
Curd- 1/4 cup
Lemon juice- 1 tbsp
Kashmiri Chili powder- 1 tsp
Kasoori methi- 1 tsp
Oil- 4 tbsp
Salt- 1 tsp
Directions:
Boil the potatoes till half done. Cut it into medium size cubes once it cools down.
In a bowl add lemon juice, salt, ginger garlic paste, both the chili powder and garam masala.
Coat the potatoes in this mix and let it stay in the refrigerator for 30 minutes.
After 30 minutes add the curd and roasted kasoori methi and now refrigerate the potatoes for 3 hours.
If you are going to barbecue place the potatoes on an aluminium foil so it does not fall between the grill. Barbecue it for 10 minutes till the potatoes are char grilled.
If using a microwave, oil a pan and place the potatoes. Grill at 160 degrees for 5-8 minutes. Serve with mint chutney.