Tandoori Mutton (barbecued Indian Lamb Chops)
A twist to the usual Indian Tandoori dish. Meat lovers will love this meaty tandoori grilled lamb.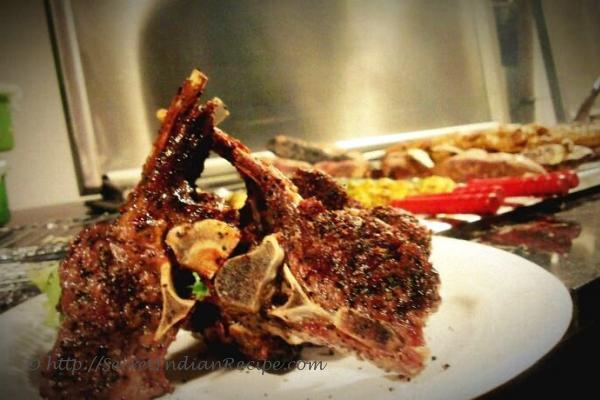 Ingredients:
8 Lamb Chops
1 Tsp Red Chili Powder
1.5 Tbsp Tandoori Masala
Salt to taste
2 Tbsp Yogurt
1 Heaped Tsp garlic Paste
1 tsp Lemon juice (or vinegar)
1 tsp garam masala
Directions:
Combine all marinade ingredients(Chili powder, salt, yogurt, garlic paste, garam masala,lemon juice & Tandoori masala) in a large bowl
Mix well and tip in the lamb chops
Use your hands to coat the chops well and evenly
Let the meat marinate for minimum 4 hours in the refrigerator. Cook on a charcoal grill for 15 minutes on both sides for well cooked meat.
Serve with thinly sliced red onions and a wedge of lemon
Footnotes:
You may also add a little heavy cream to the marinade
While the meat cooks on grill you may brush it with a little butter on either sides to avoid drying out
By Yogesh Godbole : You need the barbecue to be really really hot so as to sear meat and lock the juices within .. then move it to a 'cooler' part to really cook it. Then 10-15 minutes per side sounds right.
Other Indian Recipes that you may Like !