Tandoori Popcorn Shrimp With Kick-in Yogurt Sauce
Crispy crunchy tandoori flavored popcorn shrimp with sweet spicy yogurt sauce. Perfect appetizer or snack.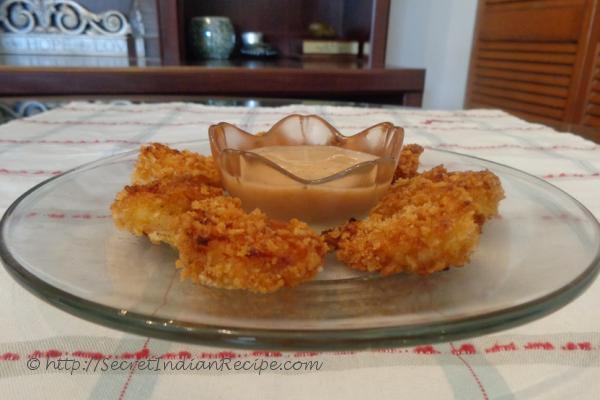 Ingredients:
10 Large Raw Shrimp, peeled, divined and tail removed
1 teaspoon Curry Powder
1/2 teaspoon and 1/4 teaspoon Ground Cumin, divided
1 teaspoon Dry White Wine
1 teaspoon Grated Garlic
1/2 cup Plain Yogurt, divided
1/2 teaspoon Chili Powder
1/4 cup Japanese style Panko Breadcrumbs
Pinch of Cayenne Powder (if you prefer spicier, add more)
1/2 teaspoon Sugar
All purpose flour for coating shrimp
Canola oil for deep-fry
Pinch of salt
Salt and Black Pepper to taste
Directions:
1. Rinse shrimp under running cold water, drain in a colander then pat shrimp dry with paper towels.
2. In a bowl, mix together white wine, garlic, curry powder, chili powder, 1/4 cup of yogurt and 1/2 teaspoon of cumin. Add salt and black pepper to taste. Add shrimp to the bowl and marinate for about 10 minutes.
3. Make yogurt sauce. In a small bowl, mix together 1/4 cup of yogurt, cayenne, 1/4 teaspoon of cumin, sugar and pinch of salt. Add black pepper to taste. Set aside.
4. After 10 minutes, make tandoori popcorn shrimp. Put all-purpose flour into a shallow plate and put panko into another shallow plate. In a fry pan, heat enough canola oil over medium high heat to fry shrimp. Remove the excess marinade sauce from shrimp, coat shrimp with flour then coat with panko. Work in 1-2 batches. When the oil gets hot, put shrimp into the fry pan and fry shrimp until golden brown and cooked through flipping once. Drain on paper towels.
5. Put popcorn shrimp on a serving platter and serve with the yogurt sauce.
Other Indian Recipes that you may Like !