Tarbuji Sarbet (watermelon And Coconut Juice)
With the onset of summer, I gradually change my food habit. Take more liquids than solid food. Fruit juices are best option. Although, eating whole fruit is more nutritious than fruit juices. In the process of making juice, we remove the fibre, which is essential for good health. Recently I discovered a new mantra of having fruit juices. I make juices of selected fruits, like Watermelon, Woodapple, Lemon, grapes, which has water soluable fibres and hence the fibre is retained when we make juice out of such fruits.
Today, I am sharing, a really cool summer juice made out of watermelon and coconut water. Both are high in water content and have cooling effect on our body. Since coconut water can be a tasteless, (Tender coconuts without meat are tasteless or less sweet but more healthy than coconut with meat ) I add little jaggery or sugar to taste.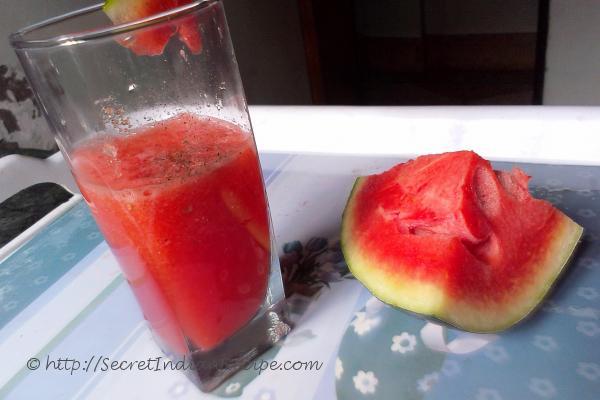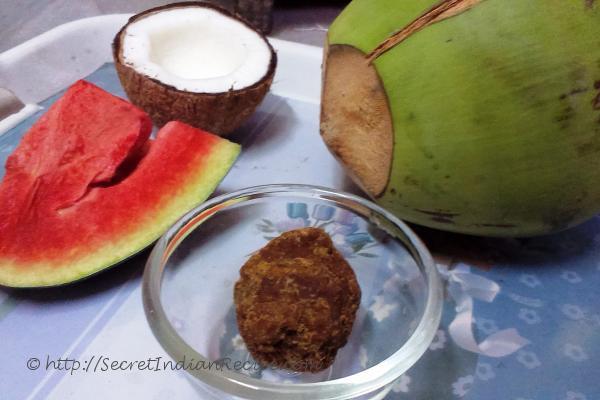 Ingredients:
Watermelon – 1 bowl
Tender coconut water – 1
Tender coconut slices – 3-4 slices
Jaggery / Sugar – to taste
Directions:
Chop the watermelon in small pieces and take the seeds out with a fork or spoon.
Now take a juicer and grind the watermelon pieces along with grated jaggery and coconut slices.
Seive the juice in another bowl to remove the coconut residues.
Chill the juice by keeping in refrigerator for 20 mintues or put some crushed ice.