Tava Aloo Chaat
I have been a follower of secretindianrecipe.com since quite sometime but never shared a recipe. The day I read about Healthy Indian recipe contest I was thrilled. Promoting real homecooked healthy food - I think that's great! The first thing which came to my mind is to make "chaat'. Indian Chaat is famous worldwide as it combines the right mix of tastes. I often make chaat at home and I often try to play with my ingredients to make it tasty and healthy. Here is one of my favorite Tava Aloo Chaat recipe. I hope people will like it.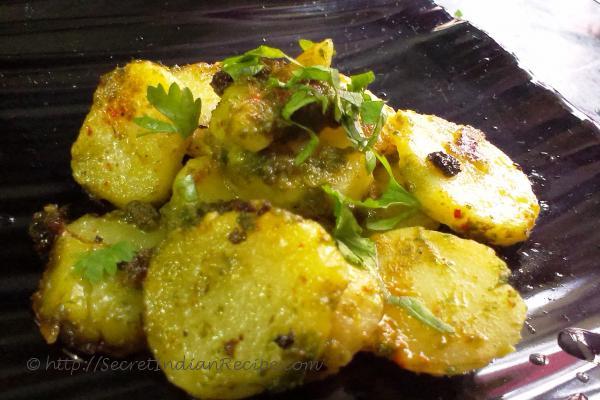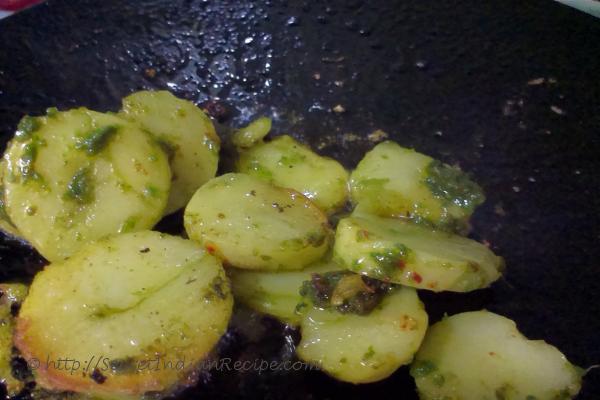 Ingredients:
Potatoes - 250 grams
Mint leaves - 1 bunch
Coriander leaves - 1/2 bunch
Green chilies - 2-3
Ginger - 1/2 inch piece
Lemon juice - 1 lemon
Salt to taste
Oil- 1 tablespoon
Chaat masala - 1/2 teaspoon
Directions:
Boil the Potatoes in a pressure cooker upto 2 whistles. The Potatoes should be cooked properly but should not turn mushy.
To make the green chutney grind Mint and Coriander leaves along with ginger, green chilies and salt to taste. Add lemon juice and keep aside.
Peel the boiled Potatoes and dice them in slices. Add the grounded chutney nad mix properly. Leave it to marinate for 10 mintues.
Before serving heat oil on a tava. Pour the Marinated Potatoes along with the marinade. Saute over medium flame till it becomes crispy.
Sprinkle some chaat masala and chopped coriander over it and enjoy hot tava chaat.
Footnotes:
If you have overcooked your potatoes, keep them in refrigerator for an hour then cut them.