Tawa Baingan/ Chatpate Baingan (crispy And Spicy Eggplant)
Tawa Baingan is a recipe of cooked baingans, shallow fried in a delicious mixture of spices to give a unique and spicy taste. This is my mom's recipe and I just love to have this eggplant recipe with rotis. It's something that she makes as a quick side dish. So go ahead and give this a try.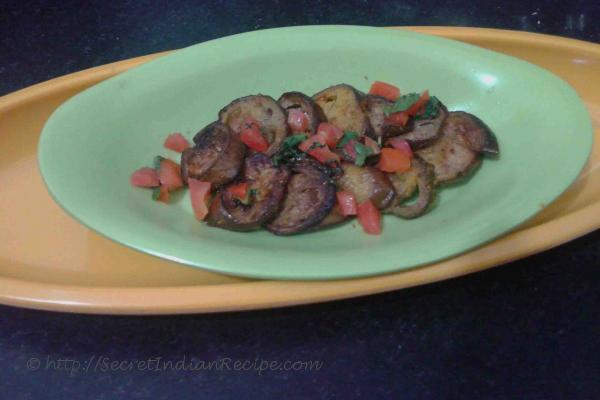 Ingredients:
Brinjal (Baingan) - 2 pieces (long bringals)
Ginger-Garlic Paste - 1 teaspoon
Red Chilli Powder - teaspoon
Turmeric Powder - teaspoon
Coriander Powder (Dhania) - 1 teaspoon
Cumin powder (Jeera) - 1/2 teaspoon
Rice powder - 2 teaspoon
Chat Masala - 1 teaspoon
Salt to taste
Refined Oil
Directions:
Wash and cut the eggplant horizontally round slices with a thickness of less than 1/2 inch.
Put the sliced baingan in salt water for 10 minutes. This is so that the bitter juices get removed.
Remove and pat dry all the slices.
In a bowl mix red chilli powder, turmeric powder, coriander powder, ginger-garlic paste, cumin powder and salt.
Now marinate the sliced baingan and keep it aside for another10 minutes.
Take rice flour in a plate. Coat each slice with rice flour. Dust off the extra rice flour by gently tapping the slices.
To shallow fry, place a pan on flame add 5 tbsp of vegetable oil.
Fry the baingan slices on both sides till crisp and golden.
Once it turns golden brown on both sides and cooked properly switch off the flame.
Just sprinkle little chat masala on it.
Serve hot as a side dish.