Tawa Chicken Kerala Style (chicken Grilled On Girdle Kerala Style)
Tawa grilled chicken is a simple healthy recipe that uses freshly pounded spices to marinate the chicken. But it is the execution that makes this chicken different and healthy. This chicken is double cooked. It is firstly lightly sauted and then grilled on a girdle. Now this is a technique used in Kerala and I picked it from my dad's head cook. He told me they did this because with running orders putting raw marinated chicken on a girdle and cooking it without burning it is going to burn the chicken and they would not be able to deliver it in 15 minutes. Hence the double cooking process. You cook the chicken with the spices once and then grill it on a tawa so its healthy. There is no sauteing in this recipe. The Himachali version of this recipe is slightly different and is the North Indian version of this dish.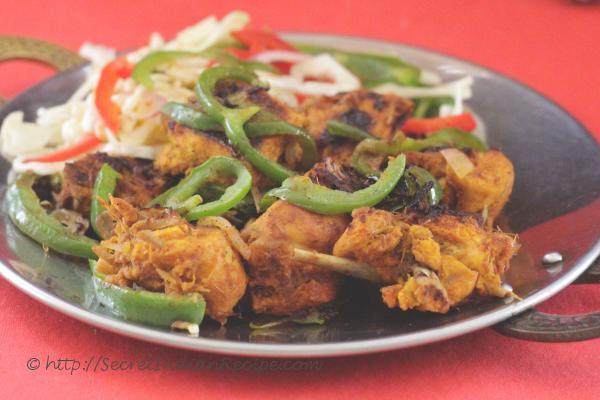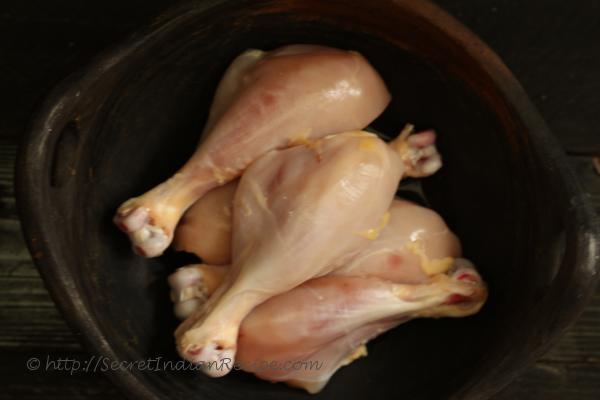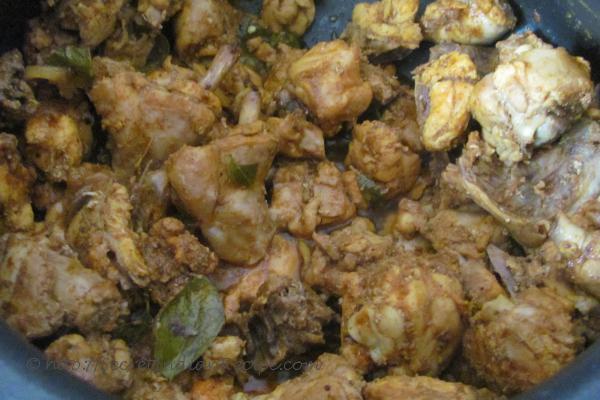 Ingredients:
Chicken cut into small bits- 400 g
Cinnamon- 1/2 inch long piece
Cardamom -2
Peppercorns- 1/2 tsp
Cumin- 1 tsp
Fennel seeds- 1/2 tsp
Chili powder- 1 tsp
Turmeric powder- 1/2 tsp
Coriander powder- 1 tsp
Vinegar- 1 tsp
Curry leaves- 5-6
Ginger-garlic paste- 2 tbsp
Capsicum julienne - for garnish
Sliced onions- for garnish
Salt- to taste
Oil- to baste while grilling on tawa
Curry leaves- 1 sprig
Directions:
Roast the cinnamon, cloves, cardamom, peppercorns, cumin and fennel in a pan and pound them later using a mortar and pestle.
Cut the chicken into small bits and wash them thoroughly. Prepare a marinade with the chili, turmeric, coriander and roasted spice powders, ginger- garlic paste and salt.
Add vinegar to the marinade and coat the chicken with this marinade. Let the chicken rest in this marinade for 30 minutes.
Now add the marinated chicken to a pan and cover and cook this chicken with curry leaves for 10 minutes with 2 tbsp water.
The chicken when covered and cooked will release water which is why more water isn't added.
After 10 minutes transfer the chicken to a plate and let it cool, discard the curry leaves at this point otherwise they will burn while pan searing.
Heat the tawa/girdle and smear some oil for pan searing the chicken.
If it is a non-stick tawa you can avoid the oil. Pan sear the chicken pieces on the tawa both ways till they brown evenly.
Serve with some julienned bell peppers and sliced onions on the top. You can also sprinkle a dash of chaat masala.
Footnotes:
I had chicken drumsticks so I cut them into small pieces before marinating.
Other Indian Recipes that you may Like !