Tendli Kodi (ivy Gourd Curry)
When I am especially lazy or busy, this dish comes to the rescue. there are always those days when you are on the run and the sun rises and sets a little too early :) I like to make this because it has a veg in the curry, so it's one dish less to cook. Ivy gourd tends to take a while to cook, so you can get on to another chore in the kitchen while it bubbles away. Just don't forget about it on the flame!
Depending upon what I serve it with I vary the consistency of the gravy. Today I have made it thick so that I can eat it with roti. To thin it out, just simmer with a little extra water. I hope you give this recipe a try, it really is good :) Enjoy!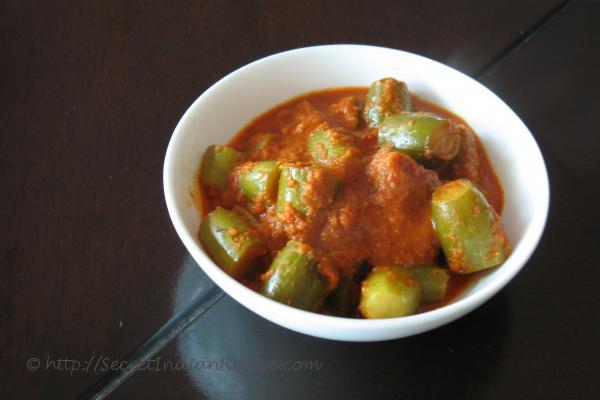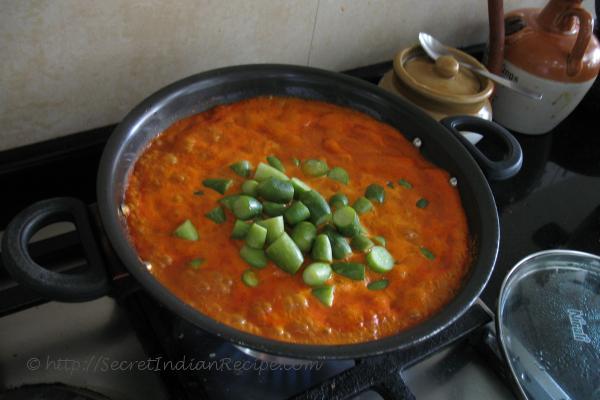 Ingredients:
1/2 kg Ivy Gourd, Topped and tailed and slit in the middle
For the masala: 1 large Onion, sliced
1 tbsp Mustard seeds
1 tsp Chilly Powder
1 tsp Turmeric powder
10 Peppercorns
2 tbsp Coriander seeds •
A tiny bit of Tamarind
10 Red Chillies
10 Garlic Cloves
1 tbsp Cumin Seeds
1/2 Coconut, scraped
Salt to taste
Oil for cooking
Directions:
Grind all the ingredients for the masala with 1/2 cup of water till it resembles a fine paste.
Heat the oil in a pan and fry the masala for 1 minute
Add 1 cup of water and let it come to a boil.
Add the ivy gourd and let the curry come to a boil again.
Reduce the flame and let it simmer for 10 minutes or till the ivy gourd is cooked.
Season with salt to taste.
Enjoy!