Thai Noodle Bites.
A quick and easy to prepare 5 minute noodle recipe which uses all the raw ingredients. Sounds little crazy but guys do give it a try and you will know what am I talking about. This recipe is especially perfect for all sorts of noodle lovers and hopefully they can satiate their midnight hunger pangs or even when they are feeling lazy to ccok up something elaborate.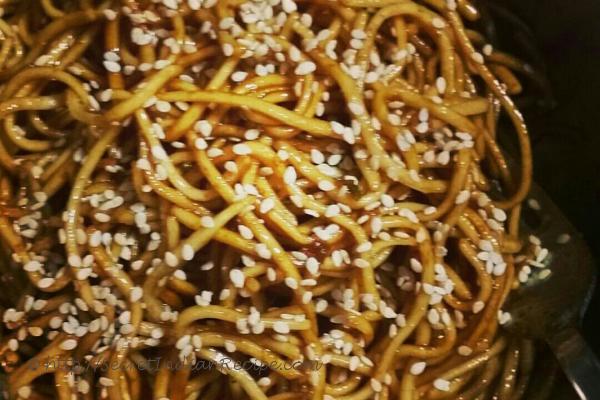 Cooking Time:
7 mins to boil the noodles and 3 mins to toss everything together.
Ingredients:
Olive oil
A small packet of noodles.
Sesame oil
Dark soy sauce
Finely chopped ginger
Finely chopped garlic
Finely chopped chillies
White sesame seeds
Directions:
Boil the noodles with a little salt and olive oil and keep it aside in a bowl.
Now in the boiled noodles add in all the above mentioned ingredients.. that is.. chopped chillies, ginger, garlic, dark soy sauce, sesame oil, olive oil, salt and black pepper. Toss all the ingredients together and serve in small bowls. Top the noodles with some white sesame seeds for crunch.
Footnotes:
This noodle recipe is quite versatile as you can play around with it in numerous ways. You can add raw veggies or par boiled veggies of your choice to it or add chopped boiled egg and make it even more wholesome. This can be served as a cold noodle salad as well.