Thakalli Cheese Dosa (tomato Cheese Dosa)
What would you do if you have dosa batter for a week? I make idlis the first day, dosas the second day, and this cheese tomato dosa the third day. It is so wholesome in itself that we do not bother making a chutney or sambar for this dosa. It is a dosa no child can refuse. So next time you have leftover dosa batter you know what to do.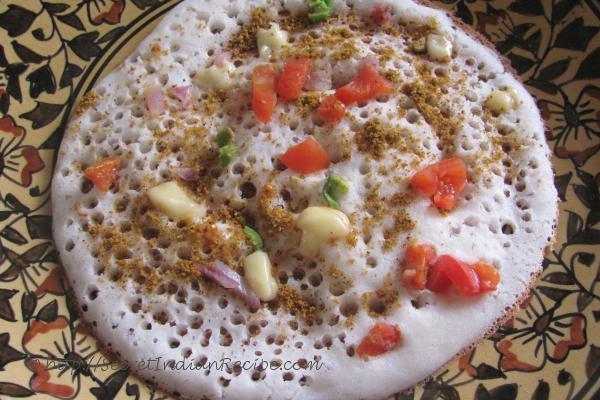 Ingredients:
Dosa batter- 1 cup
Cheese- 100 g
Green chilies- 1
Tomatoes- 2
Onion- 1
Idli chutney powder- 1 tbsp
Directions:
Heat the girdle. Pour a spoonful of dosa batter.
Sprinkle the chutney powder immediately followed by chopped onions, chilies, tomatoes and cheese.
Cover the dosa with a lid and cook under steam over low flame.
Do not flip this dosa to the other side this is why we cook it with a lid under steam.
When the bottom of the dosa is brown and crisp it is ready to be served.
Footnotes:
To prepare dosa batter soak 1 cup raw rice with 1/2 cup urad dal and a pinch of fenugreek seeds overnight. Grind the dal and rice to a smooth batter in the morning and let it ferment over the counter top for 3-5 hours before refrigerating.