Thakkali Sadam (tomato Rice)
I love anything that has tomatoes be it chutney, chips, ketchup or even a simple tomato rice. This rice makes its appearance at least twice a month. It is so easy to make and requires very few ingredients. In Karantaka where I live this is a popular breakfast known ad tomato bath but it is prepared differently. This version is less spicy though there is a spicy- tangy version that I attempt at times.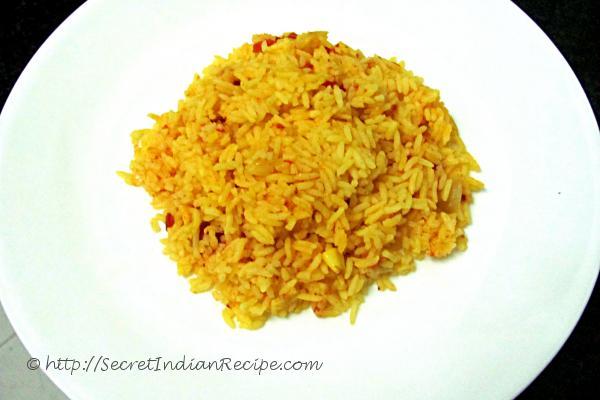 Ingredients:
Tomatoes- 5
Rice- 1 cup
Onion- 1
Green chilies- 4
Curry leaves- 1 sprig
Garlic- 4 cloves
Turmeric powder- 1/2 tsp
Fenugreek powder- 1/4 tsp
Salt to taste
Water- 2 cups
Oil- 2 tsp
Directions:
Heat oil in a pot and add the curry leaves followed by crushed garlic.
Saute the garlic for 3-4 minutes over low flame, do not let it burn.
Now add the onion, green chilies and chopped tomatoes.
Add salt and saute the ingredients till the tomatoes mash.
Now add the turmeric and fenugreek powder. Saute for 5 minutes before adding the rice.
Add the water and bring the rice to a boil. Cover the pot with a lid once the water begins to boil.
Let the rice cook for 30 minutes till the water evaporates and the rice has cooked.
Serve with kurma, raita and pickle.