Thannimathan Rasam (watermelon Rasam)
I have heard friends talk about this new rasam recipe that has been floating around. As I have always said the only rasam I grew up having was tomato rasam but having lived in Karnataka for 6 years I have come across so many types of rasams and this one made with watermelon totally blew me off. I did not follow any recipe I just pureed the watermelon and followed my basic rasam recipe. One thing I noticed is that the quality of your watermelon is what makes this rasam a success, a bad quality one will not lend the sweetness and flavour of watermelon to the rasam so only prepare this with the best watermelon. Go low on spices because watermelon has subtle flavours and the spices should not take this away.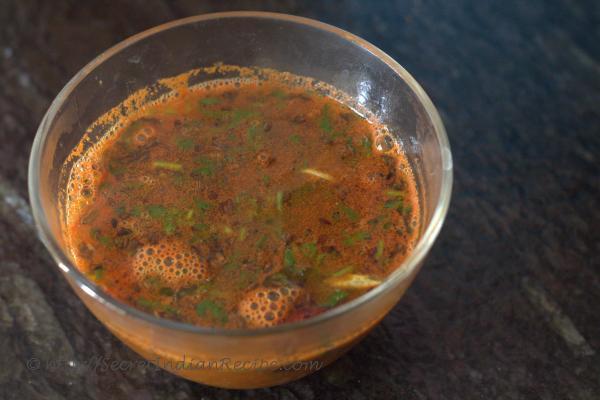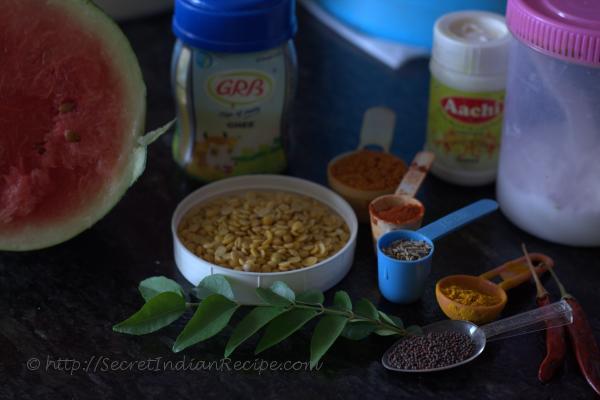 Ingredients:
Watermelon cubes- 4 cups
Garlic- 6 cloves
Whole pepper- 1 tsp
Cumin seeds- 1/2 tsp
Chili powder- 1/2 tsp
Turmeric powder- 1/4 tsp
Sambar masala- 1 tsp
Tamarind- size of a lemon ball
Coriander leaves chopped- 4 tbsp
Asafoetida- 1/2 tsp
Ghee- 2 tsp
Split pigeon lentils- 2 tbsp
Dry chilies- 3
Salt- to taste
Curry leaves- 2 sprig
Directions:
Soak tamarind in 1 cup warm water before you start to chop the watermelon. Pressure cook the lentils with 1 cup water up to 2 whistles.
Boil the watermelon cubes with 1 cup water for 10 minutes. Puree the watermelon and strain it.
Transfer the puree to a pot and add 1 cup of water. Add tamarind extract soaked in 1 cup of warm water along with cooked lentils, salt, chili powder, turmeric, sambar powder and asafoetida.
Let the rasam simmer for 10-15 minutes over low flame.
To prepare the tempering, heat ghee in a pan, add mustard seeds and dry chilies first.
Add the cumin seeds after the mustard splutters, along with curry leaves. Add the minced garlic and crushed pepper after 2 minutes.
Add the tempering to the simmering rasam after the garlic browns. Now let the rasam simmer with the tempering for 10 minutes.
Garnish with chopped coriander leaves and the rasam is ready. Serve with rice.
Footnotes:
If you like it sweet add 2 tbsp melted jaggery to this rasam. I don't do this.