Tharavu Stew With Idiyappam (duck Stew With Idiyappam)
String Hoppers also known as Idiyappam is a Kerala breakfast dish often had with milk and sugar or a stew. Most popular stews served with Idiyappam are Egg stew, Chicken stew, Veg stew and Mutton stew. This is my mother's favourite Duck stew that she often serves for festive occasions. Having had it for Easter recently I thought of sharing it here. Unlike the traditional stews, this stew uses milk and not coconut milk. It also cooks the duck after it is marinated with pepper and ground ginger and garlic. Mom believes this takes away the raw smell of duck which is unbearable to people at times.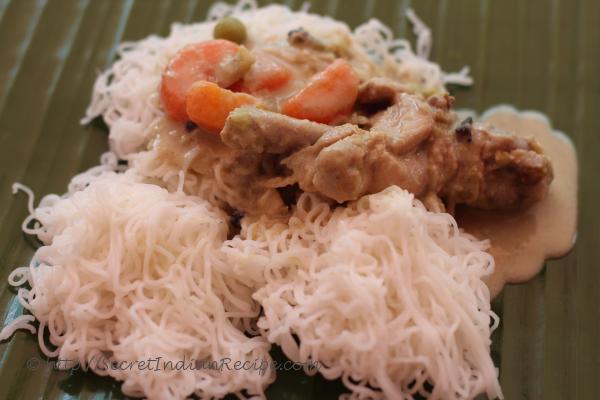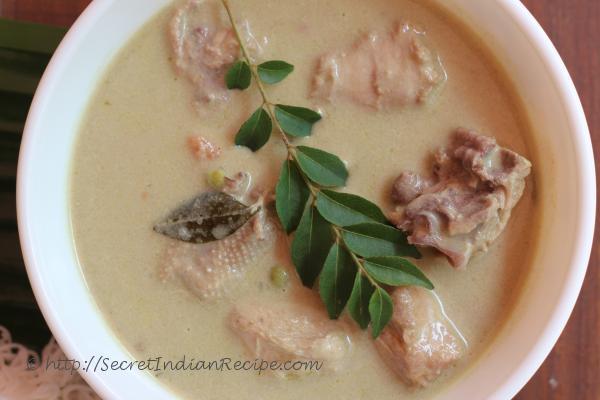 Ingredients:
Duck- 1 kg
Onion-2
Ginger- 2 inch piece
Pepper powder- 2 tsp
Garlic- 6-7 cloves
Carrots- 2
Potatoes-2
Green Peas- 1 cup
Milk- 2 cups
Salt- 3 tsp
Coconut oil- 3 tbsp
Rice flour- 3 cups
Warm water- 1 cups
Cardamom-2
Cinnamon stick- 1 inch long
Cloves- 4
Peppercorns- 1 tsp
Bay leaf- 2
Curry leaves- 1 sprig
Green chilies- 6
Water- 1/4 cup
Directions:
The first step is to marinate the duck. For this take 1 tbsp coconut oil and add the pepper powder and salt to it. Now mince the ginger garlic to fine paste and marinate the chicken with all these ingredients(Coconut oil, salt, pepper powder and ginger-garlic paste).
Leave the duck with marinade on the counter top of your kitchen or in the refrigerator for at least 3-4 hours.
Now heat the remaining oil in a pan. Add all the whole spices (pepper,cloves,cardamoms,bay leaf and cinnamon) once these spices are well roasted as in they emanate a fragrant smell, add the chopped onions, green chilies, ginger and curry leaves.
Once the onions start to brown add the duck that is already marinated to this base. Add 1/4 cup water and let the duck cook under slow flame. Add some salt at this point a pinch because there is salt already in the marinade.
Add chopped potatoes and carrots 10 minutes after you added the duck. By this time the duck would be half cooked. Now cook till the potatoes and carrots are well cooked.
Add the green peas now and let the curry simmer for 5 minutes. Add the milk after this and bring the curry to a boil.
Switch off the flame and let the curry rest for the flavours to blend together.
An additional tempering of shallots and curry leaves is permissible in the end though it was omitted in this recipe.
Footnotes:
This recipe does not use turmeric and chili powder to keep the colour white, however you can add these if you want to and the colour of the curry will change to yellow.
Traditionally coconut milk is used for this recipe. This can be prepared by grating one coconut and extracting its milk by running it though a grinder and further sieving it.
Other Indian Recipes that you may Like !