Thattai Recipe ( South Indian Fried Snack)
Thattai is a authentic and traditional South Indian crispy snack. We make thattai for many festivals like Krishna Jayanthi or even for a regular evening snack.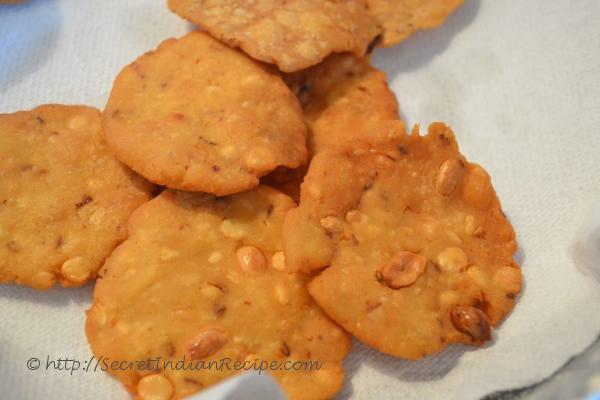 Ingredients:
Rice Flour - 1 Cup
Urad dal Flour - 1 teaspoon
Red chilli powder 1/2 teaspoon
Hing - 1/4 teaspoon
Coconut sliced - 2 teaspoon Optional
Fried Gram - 2 teaspoon
Odachakadalai Curry leaves- few
Oil for frying
Butter - 1 tablespoon
Salt – To taste
Directions:
Take a pan, add rice flour, urad dal flour, salt, red chilli powder, hing, sliced coconut pieces, curry leaves, fried gram, butter and mix it well. Sprinkle water and mix all these ingredients to make it a thick dough.
Take a piece of plastic paper, spread oil , make small ball of the flour, and keep it on paper.
Grease the fingers with oil and press the ball to flatten it. Make the patties really thin and prick each thattai with a fork or a toothpick in many places.
Pricking makes the oil penetrates to the inner portion of the thattai and cooks the inner portion well. If the inner portion of thattai is not cooked, then the thattai will be chewy.
Also if you miss the pricking, then sometimes, the thattai will become like a poori. So pricking is an important step. Heat the oil in a heavy bottomed pan.
Slowly turn the plastic paper over your palm. The greased plastic will enable flattened thattai to slip on your hands easily.
Put in hot oil and turn them to cook evenly until golden yellow/ deep brown. Allow the thattai to cook till all the bubbles ceases and also keep the flame on medium till the thattai is cooked completely.
Drop them on a paper towel to drain excess oil.
Once cooled, store them in an airtight container.
The delicious Thattai is ready for neivedhyam and for serving.
Footnotes:
Do not add butter more than required because at the time of frying, excess butter will disintegrate Thattai. The whole dough may go waste.
You can also add two tbsp of coconut oil . It gives a good flavor.
You can also microwave curry leaves for two minutes to make it crispier and add it to the dough.
Butter can be replaced with ghee and oil. If you add excess water, once Thattai is fried, it will lose its crunchiness.
If Thattai breaks while dropping it in oil, then the consistency is not correct. Add more flour, reduce the water and adjust the measurement of the ingredients accordingly.
Frying on low flame will yield very oily Thattai. When Thattai is done, it will look pale orange in color but when it cools down, it will turn to its natural golden color.