Thattai - A South Indian Crispy Snack
#DiwaliRegionalRecipe
Thattai is a crispy snack made during Diwali in our home. During Diwali my mother used to make lots of Murukkus, Thattais and sweets and stock for a month. We used to distribute sweets and snacks to near and dear ones. And we also give them to those who visit us also.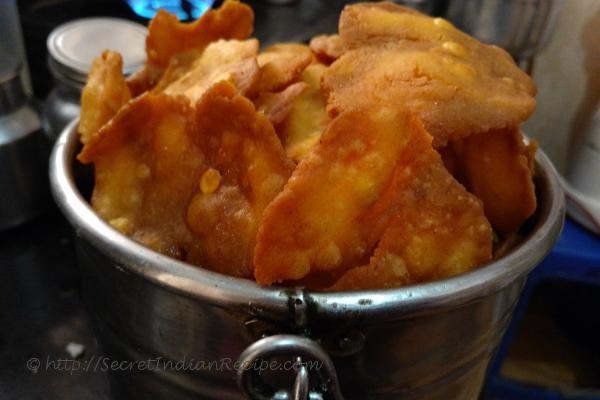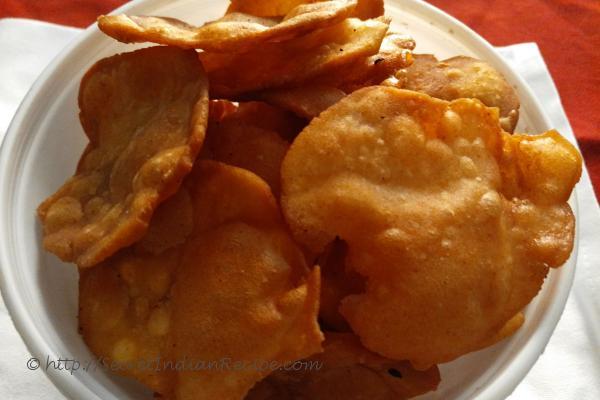 Ingredients:
Rice Flour - 2 cups
Roasted Ured Dhal Flour - 2 tablespoon
Red Chilli Powder - 1 tsp.
Asafoetida - 1/4 tsp.
Channa Dhal - 1 tablespoon
Butter - 2 tablespoon
Salt - as needed
Water - as needed
Oil - for deep frying
Directions:
Soak channa dhal for 1 hour in water.
Mix rice flour,urad dal flour, asafoetida, red chilli powder, salt, butter at room temperature and the soaked channa dhal well.
Add water little by little to make a thick and smooth dough.
Take a piece of plastic paper, spread oil in the paper, make small ball of the flour, and keep it in paper.
Grease the fingers with oil and press the ball to flatten it.
The thattai should be really thin and prick the thattai with fork in many places. Otherwise thattai will puff like pooris.
Heat oil in a pan and carefully take the thattai from plastic sheet and slide into the oil.
Fry till both the sides are cooked well and crispy.
Drain the thattai in a colander and store them in a chambdam or box when cooled.
Your tasty and crispy thattai is ready.
Footnotes:
To make ured dhal flour, dry roast ured dal until nice aroma rises and then cool down, grind to a fine powder.
Pricking the thattai makes the oil penetrate to the inner portion of the thattai and thus helps in cooking the inner portion well. If the inner portion of thattai is not cooked, then the thattai will be chewy if you miss the pricking, then the thattai will puff like a poori.