Thekua (whole Wheatflour Cookie)
Thekua is a sweet snack quite popular in north and east India. It is an essential recipe during festivals like ' Makar sankranti' , 'Roth' and ' Chatt Puja'.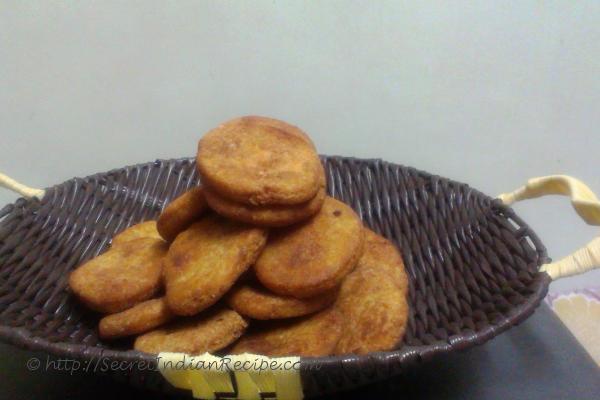 Ingredients:
Maida (refined flour) 200 grams (7 ounce)
Sugar 150 grams (5 ounce)
Ghee 100 grams(3.5 ounce)
Nuts 20 grams
Water or Milk ½ cup
Directions:
First put the maida in a bowl and add 25 grams of ghee and mix it well. Then add sugar, nuts and add water / milk slowly till the dough is prepared. It is important to mention here that the sugar should not be dissolved in the kneading process and one shall be easily able to identify the sugar granules in the dough. This is to give it a crunchy taste.
Take small portion from the dough and flatten it by using ' Chowka and belan", ( rolling spin), just like a thick chappati . take a small size glass and cut circles from the flattened chappati. Repeat the process till the dough is finished.
In a pan or Karahi put the rest of Ghee (one can use refined oil also) and fry the thekuas on low flame till they turn golden brown.
Thekuas are ready to be served. Hot thekuas are really yummy but one can store them for 10-15 days in airtight containers and use as snacks.