Thenga Aracha Ayla Curry (mackerel In Coconut Gravy)
Fish curries in Kerala fall into two categories basically. As a kid I used to label them as yellow and red curry. The yellow one has a coconut base. This could be either ground coconut paste or coconut milk. Coconut milk based curries are sweeter than the coconut ground gravy. This curry has coconut ground and raw mangoes to give it the due tanginess.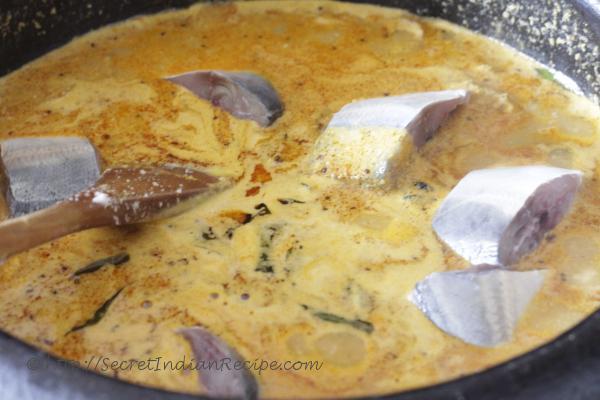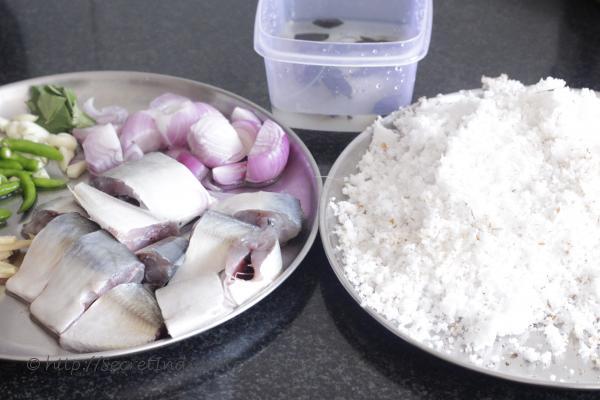 Ingredients:
Mackerel- 250 g
Grated coconut- 1
Onion-1
Ginger- 1 inch piece
Green Chilies - 4
Curry leaves- 2 sprigs
Turmeric powder- 1 tsp
Coriander powder- 1 tbsp
Fenugreek powder- 1/4 tsp
Salt- to taste
Oil- 4 tbsp
Raw Mango- 2
Shallots- 5
Mustard seeds- a pinch
Dry Chilies- 2
Directions:
Clean the fish and scour it so that spices will enter the fish while being cooked.
In a pan heat some oil and saute the curry leaves first to impart the flavor.
Now saute the onions, ginger and chili. Once they brown add the turmeric, coriander and fenugreek powder.
Once the powders have been sauted for 5 minutes pour 1 cup water and add the ground coconut paste.
Add the raw mangoes and salt and bring this gravy to boil before adding the mackerel.
Add the mackerel when the gravy begins to boil. Cook the fish for 15 minutes.
In another pan heat some oil and, add the mustard seeds and dry chilies followed by a second sprig of curry leaves.
Now add sliced shallots. When the shallots brown add this seasoning onto the curry and let it simmer for a minute.
Take the curry off the flame and refrigerate it once it cools.
Other Indian Recipes that you may Like !