Thepla ( Thin Paper Crust Gujrati Paratha)
Thepla is a dish everyone in my family enjoy eating. I once had a Gujarati neighbor who taught me the dish and ever since I have been preparing it on a regular basis. Also, it is very good for health and easy to digest. It is usually served with potato curry or pickle. My daughter prefers having it with yogurt.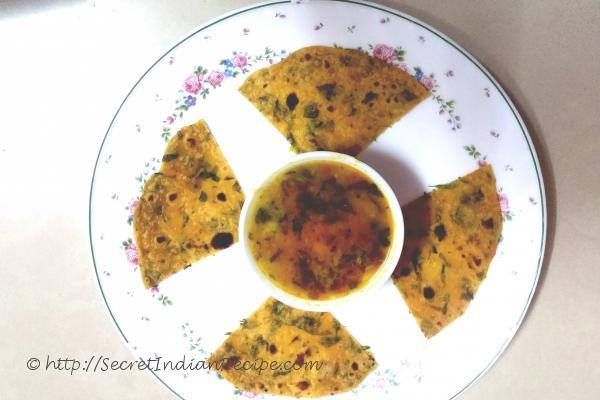 Ingredients:
Fenugreek leaves : 1 cup
Coriander leaves (chopped): ¼ cup
Whole wheat flour: 1 cup
Gram flour/besan: ¼ cup
Red Chili Powder: 1 tsp
Turmeric Powder: ½ tsp
Ajwain: 1 tsp
Curd: 4-5 table spoon
Oil: 2-3 table spoon
Salt to taste
Directions:
Rinse the fenugreek leaves, drain them and finely chop them and keep aside.
Add the wheat flour, gram flour, red chili powder, turmeric powder, ajwain, curd, oil and salt in a big vessel. Add the chopped fenugreek leaves and coriander to it. Mix everything well and knead into a dough.
Make medium sized balls from the dough. Roll the thepla with a rolling pin and sprinkle flour while rolling it.
On a tawa place the thepla and flip it when one side is cooked. Now spread oil to the cooked side. Flip and repeat. Cook till it turns golden and is evenly cooked.
Serve hot.