Thiribagam ( Three In One Delight- Tamilnadu Special)
# Thiribagam.#DiwaliRecipe. Thiribagam is one of the most popular dessert in Tirunelveli ( District of TamilNadu in Southern India). This thiribagam is made from besan flour, cashew powder, badam powder, sugar, milk and ghee. Edible camphor and saffron are used for adding flavour. This sweet has a blended taste of three major sweets kajukatli, mysurpa and badam burfi. Hence it is called as Thiribagam. This traditional homemade dessert is wrapped up in a piece of butter paper and served.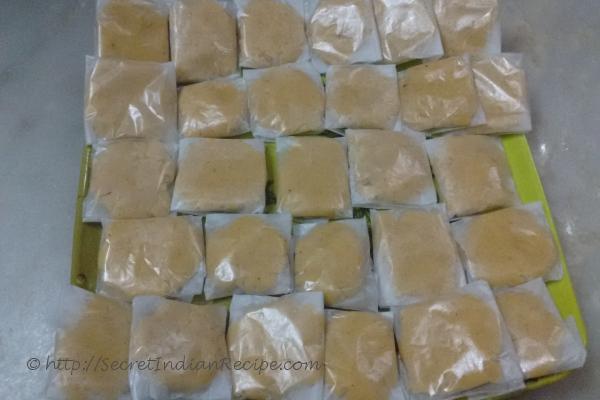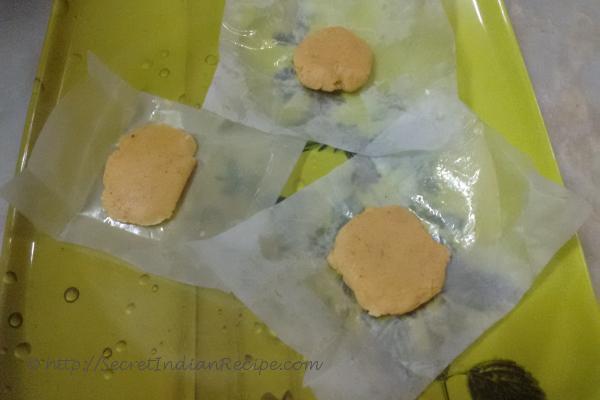 Ingredients:
Besan flour - 1 cup ( 200g)
Milk - 1 cup
Sugar - 2 cups
Cashew nuts - 1 cup
Badam - 1/2 cup
Ghee - 1 cup
Saffron - 1/4 tsp
Edible camphor - a pinch
Butter paper for wrapping the sweets
Directions:
Sieve the gram flour without any lumps.
Add the badam and cashewnuts in a big jar and powder them coarsely. It should be in powdered form not like a paste.
Combine the sugar and milk in a broad non stick kadai and cook on low flame for 6 to 7 minutes or till it reaches one string consistency.
Now add the besan flour gradually with your left hand, stirring continuously with your right hand to prevent from lumps forming.
Add 1/2 cup of ghee to the mixture and stir it continuously till bubbles are formed. At one stage the colour changes, then add the remaining ghee and powdered cashew badam. Mix it well and switch off the flame. The consistency should be like dosa batter. Add the edible camphor and saffron to it. Keep as it is in the kadai. After 10 minutes it gets thick like badamhalwa.
Take 1 to 1.5 tbsp of the sweet mixture and keep it in the center of the butter paper and wrap it.
Footnotes:
After adding cashew and badam powder do not keep it on the flame for long. Add the powder, mix well and switch off the flame. The consistency is very important in this sweet.