Three Style Onion Pulao (pyaji Pulao)
Being a home maker it is really difficult to devote time for yourself. My love for cooking seems to be had gone in a dormant period as i got busy in my never ending household chores. It was my son who took cooking as his career and brought back my passion with chirps like "maa this is not the way you do it", "maa its very unhygienic" and many more. He always seems to be on a battlefield with his experiments in my kitchen. But I do have surprised him with my own cooking perception and style. It is one of such dishes which he really loves and even used at his workplace.
Once I was watching a cookery show in which a chef was preparing this rice which seems to me very blunt. I was manipulating over my head how to make this continental style recipe into Indian pulao. Two months later when my son came back on a leave, i surprised him with this dish. He was amazed to see a dish which he has made in his hotel a countless time and it could also be served like this.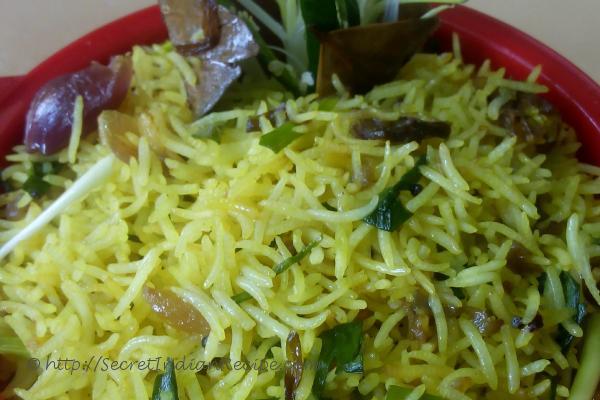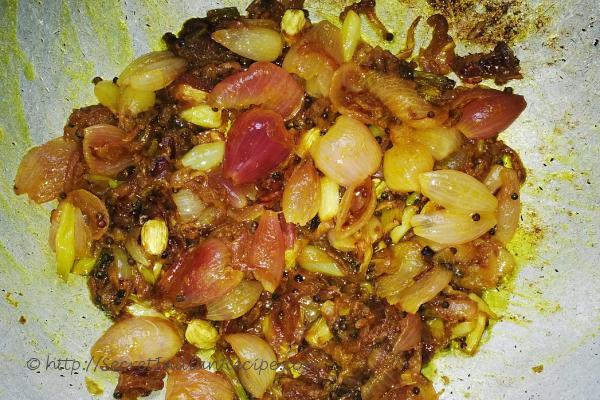 Ingredients:
Sliced onion- 3
Vinegar onion- 8
Spring onion- 2 sprig
Mustard seeds- 1tbsp
Asafoetida- A pinch
Ghee- 75ml
Turmeric powder- a pinch
Cinnamon stick- 1
Bay leaf- 2
Cloves- 2
Small cardamom- 4
Big cardamom- 2
Mace- 1
White vinegar- 1tbsp
Salt- To taste
Basmati rice- 200gm
Directions:
Soak rice and keep it aside. Boil water in a pot and add all the garam masala into it along with 1 sliced onion.
When the water starts boiling add the soaked rice into it. Cook it well and Strain the excess water.
Spread the rice on a big tray and allow it to cool.
Clean the spring onion, cut the bulb and keep it aside where as cut the green part of it into 1 inch length. Cut the vinegar onion and the spring onion bulb into halves.
Heat ghee in a kadai and add small cardamom, bay leaves and mustard seeds into it until it crackles. Then add asafoetida into it.
Now add the remaining sliced onion and cook it until it becomes transparent. Then add the spring onion bulbs and cook it for another minute.
Now add turmeric powder and vinegar, stirring continuously on a mediumm flame.
Add salt, vinegar onions and the left over green parts of spring onion and cook it for 30 seconds on a high flame.
Now add the boiled rice into the kadai and toss it well so that it gets coated with the mixture nicely.
Serve it hot with plain curd.
Footnotes:
Before adding rice into the water make sure the water is boiling nicely or else it will get over cooked.
Even after straining the rice it still is in cooking process so to avoid getting over cooked in the steam spread it quickly allowing it to cool.