Thuli (cracked Wheat And Jaggery Dessert)
Traditional Bohra dessert made of cracked wheat, ghee and melted jaggery, usually served to celebrate birthdays as per Islamic calender.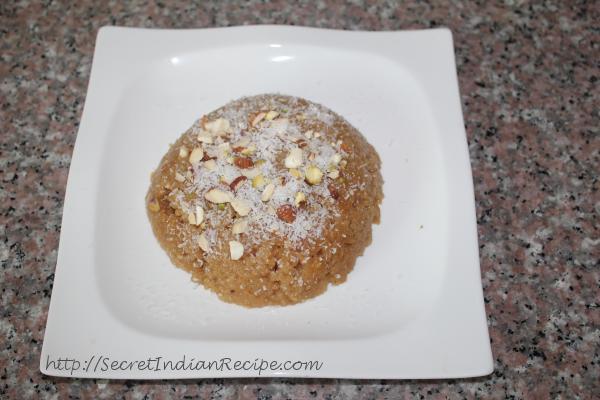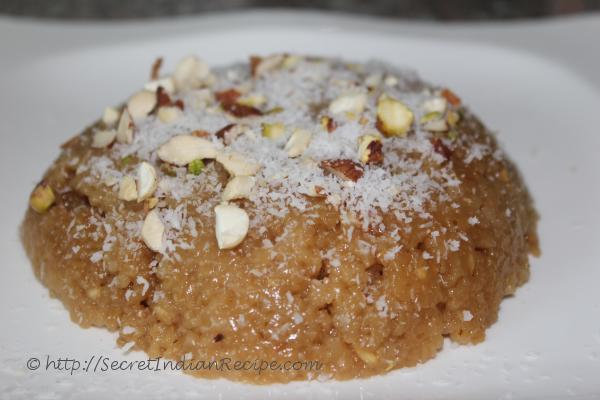 Ingredients:
250 gm Thuli (Cracked wheat)
150-200 gm Jaggery (as per sweetness desired)
2 serving spoons pure Ghee
Grated coconut and Dry fruits for garnishing
Directions:
Add jaggery to hot water and keep aside for melting.
Heat a pan and pour the ghee.
Add thuli and sauté till you get a darker brown shade.
Sieve the jaggery water (to remove any particles) and pour into the pan, leaving a small amount if need to be added later.
Cover and let it simmer for 20-30 minutes. Check softness in intervals and add jaggery water if more tendering & sweetness desired.
Serve hot and garnish with grated coconut and dry fruits namely almonds, pistachio, chironji nuts and raisins.
Footnotes:
Soak thuli for a few hours and let it dry off for better faster cooking.
Also, pressure cooking can be done to save time.