Tikath Mitha Cha Sheera (savoury Semolina)
Tikath Mitha Cha Sheera is a popular Maharastrian breakfast recipe.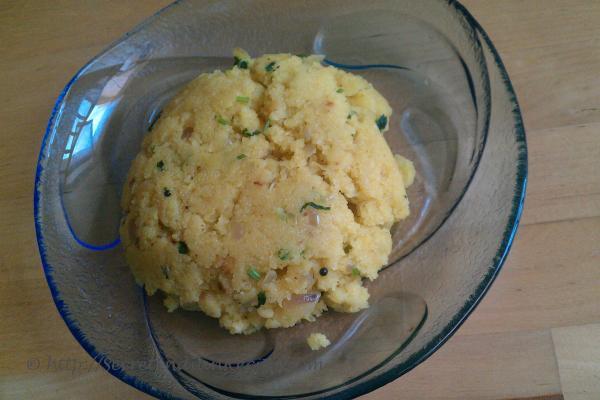 Ingredients:
2 cups semolina (rava-medium sized)
4 cups hot water
2 small onions
2-3 tsp sugar
salt to taste
3 tsp oil
1 tsp mustard seeds
1 Tsp Urad Dal ( white Gram)
½ Tsp Ginger finely chopped
Few curry leaves
3 green chilies
1/2 tsp asafoetida
2 tsp turmeric powder
Coconut and coriander leaves for garnishing
Directions:
Roast rava in a kadhai on low flame till it starts releasing a toasty aroma and till it turn light golden brown. Remove from heat and set aside
In the same pan heat oil, once hot, add mustard seeds once they start spluttering add asafoetida, curry leave, greed chilies, urad dal, ginger and then turmeric. Stir it for less than a min, and add onion to it. Keep stirring the onions until pink and translucent.
Now add the rawa and mix well, add hot water to this mixture, add salt to taste and the sugar. Cook for few more minutes covered. After 5 to 6 mins remove lid and garnish with grated coconut and finely chopped coriander.
Footnotes:
for 1 cup rava take 2 cups water, for medium sized rava