Til And Tomato Bhuna Murg(sesame Tomato Grilled Chicken )
These super delicious and easy grilled chicken are perfect accompaniment for rice with side dish .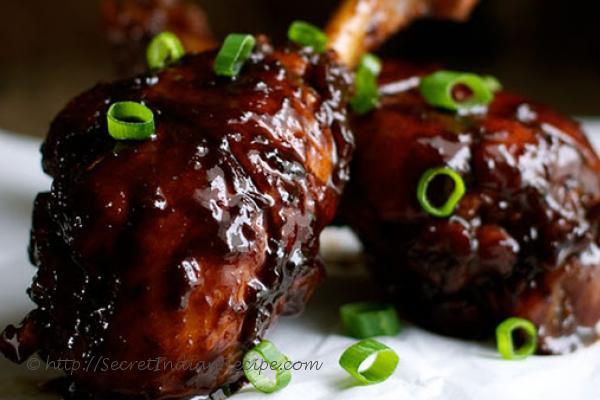 Ingredients:
Tomato paste - 2 large
Sesame seeds - 2 tablespoons
Chicken legs - 6 no
Sesame oil - 1 tablespoon
Red chillies paste - 1 1/2 teaspoon
Black pepper powder - 1/2 teaspoon
Sugar - 1 teaspoon
Salt a pinch
Directions:
Preheat oven 180° c .
Gress the 1/2 teaspoon sesame oil on baking dish and set aside .
In a mixing bowl add tomato paste, sesame seeds , sweet soy sauce , chilli paste , black pepper powder, sugar / honey and a pinch of salt and whisk until well combined with a fork .
Coat the chicken legs and marinate for 1 hours.
Now arrange the chicken legs in baking tray . And spread the remaining oil on top of the chicken .
Bake for 25 - 30 minutes and serve immediately with rice and salad.
Serve Til or Tamator Ka Bhuna Murg with Plane Rice and Enjoy .........
Other Indian Recipes that you may Like !