Til Diya Murgi Manxo (chicken With Black Sesame)
Black sesame is abundant in calcium and zinc and is enriched with anti-aging powers. The sesamin found in sesame seeds is found to protect the liver against damages by free radicals in the body. Also believed to be very good to improve breast-milk supply for a nursing mother. Chicken is very rich in proteins so combining both becomes a very healthy dish. This is another authentic delicacy from Assam. Instead of chicken one can use any other meat.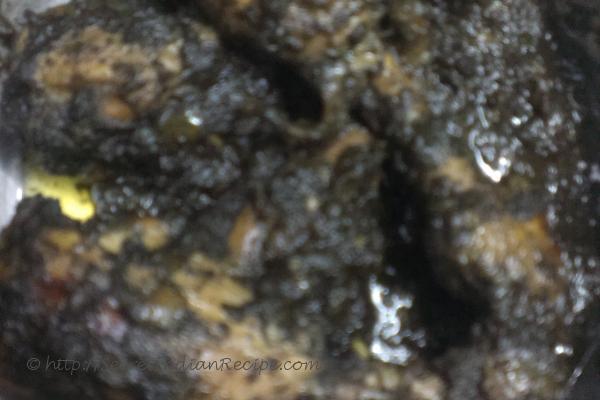 Ingredients:
Chicken half kilo—1/2 kg a little bigger pieces (bones or without bones)
Onion---1 big finely chopped.
Ginger ----1 inch(grated)
Garlic ----10-12 cloves(crushed finely)
Medium sized onion-1(Grated)
Black sesame seeds- 2 tablespoon
Black Peppercorns---1 Teaspoon
2 green chillies
Mustard oil-1/4 cup.
Salt to taste
For garnishing:
1 tablespoon mustard oil , 2 green chillies.
Directions:
Clean the chicken .wash and pat dry.
Marinate the chicken with grated onion, ginger, crushed or grated garlic and salt for 2 hours.
Roast the black sesame and Peppercorns on low flame till you get nice fragrance of both. Do it separately.
Heat mustard oil. Once it is hot add ½ teaspoon sugar. Once the oil is caramelized then add chopped onions. Fry till golden brown.
Add the marinated chicken pieces. Mix it well. Fry for 2 to 3 minutes and then cover it till its cooked.
In the mean time grind the til, peppercorns and two green chilies into a fine paste. Add little water say around one or two tablespoon for grinding.
Once chicken is done, add the sesame paste. Add little warm water so that chicken and til get mixed together.
Don't add too much water. Once the boil comes and sesame paste thickens switch off the flame. The sesame paste should actually stick to chicken.
Transfer into serving dish. Pour a spoon of mustard oil over it. Garnish with the green chillies.
Goes well with roti, paratha, naan, pulao or steamed rice.
Footnotes:
While roasting the sesame seeds make sure they don't burnt out. Else bitter taste will come. Use only black one. Else you will not get the authentic taste.
Instead of peppercorns one can use whole jeera dhania paste too.
Any other spices are not required
Other Indian Recipes that you may Like !