Til K Laddoos
I tend to search for words like Til laddoos, peetha, moori laddoos, chikki etc a lot (I mean a lot)in the 1-2nd week of Jan! An oncoming Makarshankranti/Lohri is the only time I desperately look for a fool proof recipe to make something!
This is a recipe that was easy to make and yielded a Pretty decent result!
Laddoo of any genre can be made if you know these important steps:
Step1) the main ingredient(eg besan/Til/atta etc- it's proper slow roasting till fragrant
Step2) Adding ghee- heating up and then adding the main ingredient and cooking till it starts 'leaving oil' (aka the 'shiny surface' stage)
Step3) letting it cool for atleast 12 mins
Step4) adding fine sugar to this lukewarm mix and making the laddoos
Give it a try I m sure you won't be searching for any more Till laddoos recipes!
Self boasting apart;)if you like what you read, leave ur comments and improvement suggestions!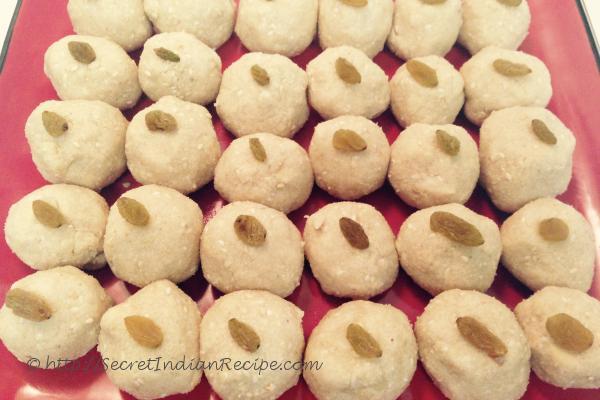 Ingredients:
White till (seasme seeds) -1cup
Cashew nuts and peanuts-1/2cup
Sugar -1/2 cup
Ghee-2 big tablespoon
Rasins to decorate!
Directions:
Take non stick pan add white till and roast it nice on a medium heat for about 4-5 mins- you will see the color change to light golden- take off the heat and cool!
In the Same non stick pan now add the peanuts and cashews and roast them for 4-5 mins of med-high heat! Note : the traditional step here says that you roast the peanuts and outsource it to the kids of the house to de-husk it! A skinless peanut looks better in a laddo!
Give sufficient time to cool all of them. Then start grinding the ingredients separately. Making sure that they are very coarsely grinded. This way the laddoos have a 'crunchy bite' to them!
Heat up the ghee in a pan and heat it for 2-3 mins on high. Add your coarse ground till cash n peanuts and mix them well. Now reduce heat to med and keep mixing it till you see the mixture "sweating" this is your shiny surface stage- it is achieved in about 8-10 mins into the cooking.switch off and let it cool for 12-13 mins
You should be able to touch your pan and count to three - that's the level of coolness we want. Now you can add grinded sugar to this lukewarm mix and stir well and make laddoos with your palm. Decorate with rasins and let it cool off in fridge for 1/2 he before serving!
Footnotes:
Letting the ghee mixture cool off is very crucial- if you don't your laddoos will be runny! So have patience here! *its good to ask some one to help your for laddoo making of you are attempting in large scale!