Til Sengdana Honey Chikki (sesame And Peanut Chikki With Honey)
An innovative twist to the traditional regional recipe of til ki chikki. I have made this with jaggery and honey keeping in mind the taste and health benefits. This Diwali was a healthy diwali! #diwalirecipe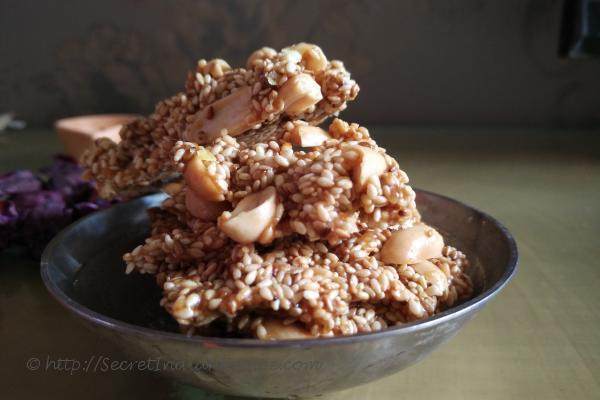 Ingredients:
Til or sesame seeds 200gms
Jaggery 100 gms
Honey 1 heaped Tbs
Ghee 2 tbsp
Directions:
Dry roast sesame seeds and peanuts separately till golden and set aside. Coarsely crush the peanuts.
In a pan heat jaggery and ghee.
Keep mixing till it forms a smooth gooey mixture and Add honey.
Mix well and add sesame and crushed roasted peanuts.
Keep mixing till everything comes together well. Cook and keep mixing for 2 mins on medium heat.
Turn off the heat.
Grease a plate with some ghee and spread the mixture on the plate.
White it is hot you square cut with knife. Grease the knife with ghee as the mixture will keep sticking to the knife.
Cool under a fan for 2 -3 hours.
When nice and hard, crack and enjoy the healthy chikki.