Tilache Ladoos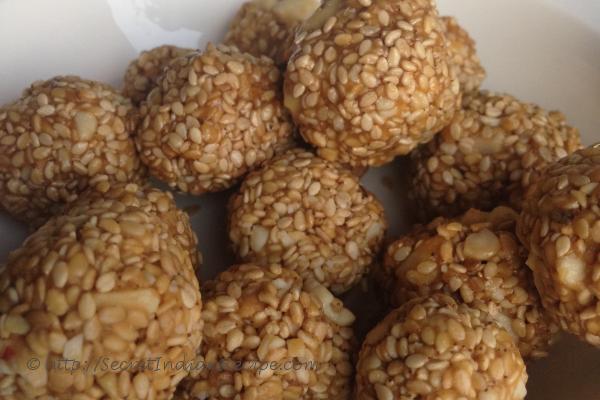 Ingredients:
1 ½ cup jaggery or Gur (broken into pieces)
1 ½ Cup Til (Sesame seeds)
3 tablespoons ghee
1/2 teaspoon crushed cardamon
1/4 cup crushed peanuts (coarsely ground)
Directions:
1 Grease a plate and keep it aside.
2 In a pan dry roast the sesame seeds for about 4-5 minutes until the turn a slight golden brown. This will take approx. 4-5 minutes.
3 In the same frying pan add the broken jiggery and the ghee.
4 .Keep stirring the mixture continuously until the jiggery seems caramelized (approx. 4-5 minutes)
5 Add cardamom, and roasted sesame seeds and crushed peanuts and mix well
6 Transfer it in greased plate,take a a small portion at a time and form into balls.
7 The entire batch should be done before while the mixture is warm.
8 Store them in an airtight container.