Tirangi Biryani (tricolour Vegetarian Biriyani)
As the name itself says its a biryani made of three different layers. The Base layer is made up of full green veggies. The second layer is with cream cheese. And in the upper layer is saffron & cottage cheese.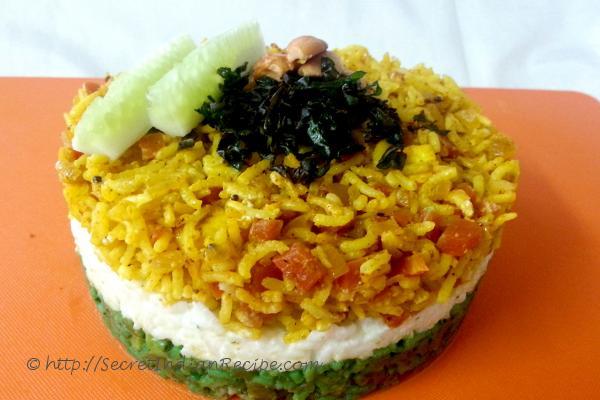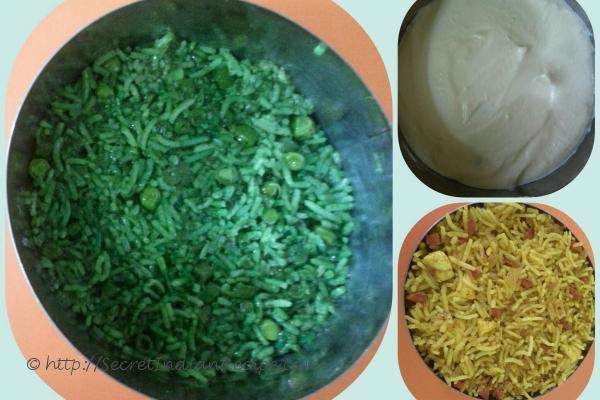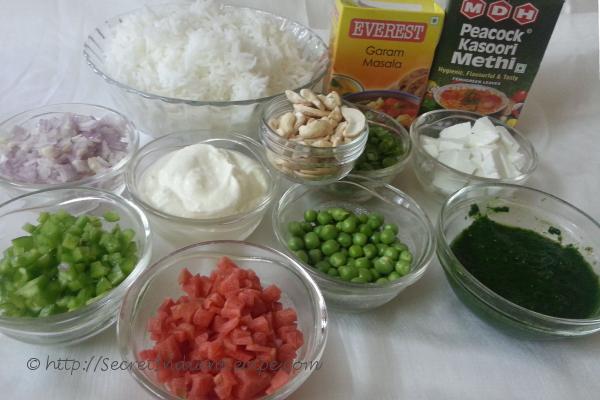 Ingredients:
Basmati Rice - 1 cup
Spinach puree - 1/2 cup
Green capsicum -1/3rd cup
Green peas - 1/3rd cup
Beans - 1/3rd cup
Kasuri Methi - 2tsp
Chopped Onion - 1
Chopped Carrot -1/3rd cup
Ginger-Garlic paste - 1tsp
Green chilli paste - 1tsp
Mustard seeds - 1/8tsp
Cream Cheese -2tb
Curd - 2 tb
Salt as per taste
Garam masala - 1tb
Fried cashewnuts as needed
Few Strands of kesar dissolved in warm milk
Cucumber to garnish
Fried Spinach to garnish
Coriander leaves to garnish
Paneer 1/3rd cup
Directions:
Boil the Basmati rice, till well its cooked.
Drain all the water from it.
Divide the rice equally in three bowls.
To Prepare different layers start with making the base layer.
For that blanch the spinach & make a puree of it.
In a pan take ghee & saute all the green vegetables- peas, beans , capsicum.
Add spinach puree,chilli paste in it & mix well.
Add salt & kasuri methi in it.
After mixing it well add the rice in it.
Mix well & keep it aside.
Start preparing the second layer.
In a bowl mix cream cheese & curd.
Add salt in it.
Now mix the plain white rice & paneer cubes in it.
Keep it aside.
Now prepare the upper layer.
In a pan add ghee & add mustard seeds in it.
As it pops saute onion in it.
Now add ginger - garlic paste in it.
Add chopped carrot & mix well.
Add all the spices salt , jeera powder & garam masala in it.
Lasltly add the rice & saffron milk in it.
Mix well & keep aside.
Now start assembling all the layers .
Take a round ring & grease it inside eith some oil.
Place the spinach layer in it & spread it evenly.
Now place the cream cheese layer on it.
Spread it evenly.
Now place the saffron layer on top & spread evenly.
Now keep this for atleast 10-15 minutes to set at room temperature.
Remove the ring slowly & garnish with fried cashew ,cuccumber & fried spinach leaves.
As you will eat it you will get many different taste from each layer.
The cream cheese layer balances the spice taste.
Serve it warm.
Footnotes:
Do not over cook the rice otherwise it may break.
Let all the layers get cool before assembling in the ring.
You can add more veggies & spices as per your taste.
You can add chopped pineapple chunks in the cream cheese layer.