Tofu Khumb Maskaawala
Recipe full of proteins'
Tofu' and 'mushrooms' rich source of protein, also when we make at home we usually make basic onion tomato masala whereas this recipe has dal' base which is again a healthy source! Do try, as surely it wll turn your taste buds on!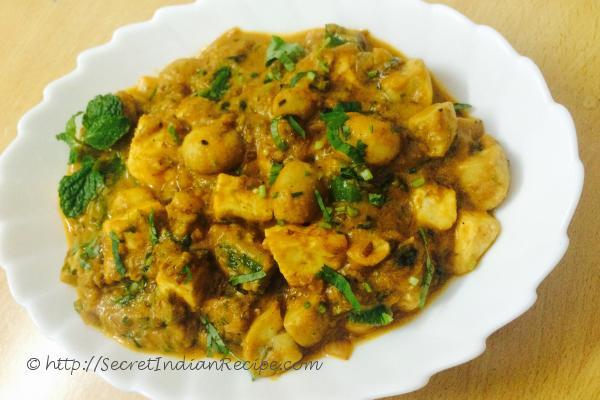 Ingredients:
200gm mushroom- cut each into 4pcs
100gm tofu- small cubes
1/2 capsicum - chopped
1tsp coriander seeds- crushed on chakla belan to split
1 onion - chopped
1 green chilli- chopped
2tbsp- chopped fresh coriander
1tsp salt, 1/2tsp garam masala, 1/4tsp amchoor pwd
Pinch haldi, pinch sugar.
1tbsp oil, 1tbsp butter(optional)
For dal - tomato paste: 2tbsp chana dal, 1tsp jeera, 2tomatoes, 1/2cup milk
Directions:
Heat oil in a pan, add mushrooms. Saute on high heat till golden. Add tofu and saute 1-2 min. Add in capsicum and saute 1 min . Sprinkle 1/4tsp salt and 1/4tsp pepper, mix. Remove from pan.
Boil 4cups of water with 1tsp salt, add chana dal. Boil covered on medium heat for about 5min till dal turns soft. Add tomatoes to the boiling dal. Simmer covered for 2-3 min till the skin of tomatoes starts to tear. Remove from fire. Strain. Peel tomatoes.
Blend blanched tomatoes, cooked dal with 1/2cup of milk to smooth puree in mixer grinder. Keep dal-tomato paste aside.
Heat oil in a pan, add coriander seeds saute till brown. Add chopped onion cook till turns golden. Add dal-tomato paste and stir well for 2min.
Add green chilli,chopped coriander , salt, garam masala, amchoor pwd, pinch haldi, pinch sugar. Bhuno for 3-4 min till dal turns dry. Stir continuosly.
Add enough water, about 1 1/2cups to get a thick masala gravy. Boil. Simmer on low heat for 2-3 min . Add mushrooms, tofu and capsicum. Mix well for 1min. Serve hot!
Footnotes:
Instead of oil, can use olive oil also for more healthier version.