Tomato Chicken With Sultana Rice
This dish is unique as the flavour of kesar is blended well with tomatoes. The accompaniment Sultana rice gives a tangy taste.
Sultanas are basically little dried pomegranate.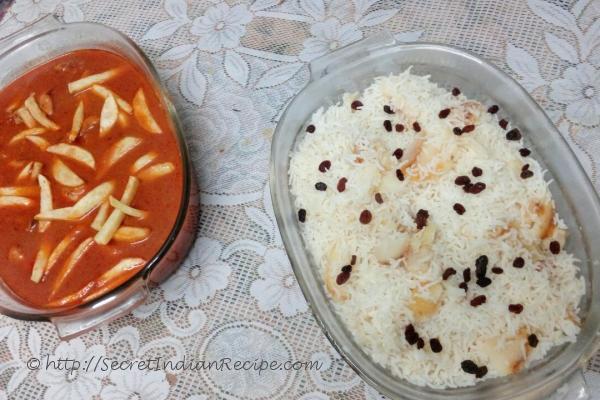 Ingredients:
Chicken - 1kg (with bones)
Garlic - 7/8 cloves
Onions lenghtwise cut - 2 big
Tomato puree 1 pck or 4/5 tomatoes pureed
Kesar - 2 pinch
2 cups of rice soaked with 2 tbsp salt
Potatoes - 3 big
Sultanas soaked in little water - 1cup
Red chilli Powder - 1 tabsp
Salt – To taste
Chicken masala - 1 small sachet
Water - 4cups
Oil- 20ml
Butter - half cup
Directions:
For the Chicken:- Heat oil in a kadhai and add chopped garlic. Roast a little then add the onions and fry
When transparent add the chicken and water 4 cups, add salt to taste, cover it and let it boil
Once chicken is half cooked add tomato puree and let it boil nicely. Close the gas and let it be warm. Remove the chicken pieces from the gravy and roast it seperately in a pan with little oil.
Meanwhile, the full gravy has to be blended in the mixer little by little. In the kadhai add this pureed creamy mix. Add Red chilli powder and chicken masala and cook for 5 mintues.
Once done add the roasted chicken and fry till the chicken starts leaving the oil from sides. Now add Kesar and cook for 5 mins....Garnish with potato fries.
For the Rice: Boil 1 litre of water with little oil and salt so that we can strain the rice.....once the water is boiled add the Rice and cook it till half done.....strain it and keep aside.
In a small pan add butter half a cup , oil 1tbsp and water half cup and heat it....
In a big pan or vessel add 3 tbsp oil and then place potatoes ( cut in thin chips) sprinkle sprinkle some salt and cover it for 3 mins on low flame or till the potatoes don't turn golden in colour from the base, now add the half cooked rice over it then add the butter mixture on it cover it and cook the rice on medium flame for 10 mintues or till the rice is cooked completely.
In another pan take little butter and roast the sultanas with a pinch of sugar and pour it on the rice while serving as shown above.