Tomato & Coconut Milk Rasam
This recipe is dedicated to my mother from whom I picked up this undying interest for cooking. A lovely recipe to eat on a hot summer afternoon for lunch, it's light yet tasty.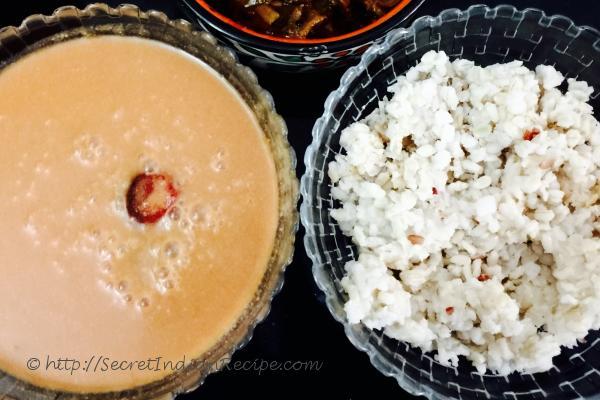 Ingredients:
Tomatoes firm big - 2-3
Coconut milk- ½ cup
Ginger - small piece, chopped
Green chilli- slit 1 or 2
Rock Salt or regular salt, according to taste
Coriander leaf for garnishing
Ingredients for seasoning :
Ghee -1 tablespoon
Rai (mustard ) -1 tsp
Jeera (cumin seeds )-1tsp
Bore (round dry red chilli)-1
Curry Leaves
Directions:
Blanch the lovely red tomatoes and puree it in a blender. Keep this aside
Take a vessel. Put 1 cup water, then add ginger, chilli and a little salt to taste once the water boils. Add the tomato pulp. Once the tomato pulp starts bubbling, add the coconut milk until it turns rosy pink .
Once the rasam boils, Switch off the gas. Heat ghee in another pan for seasoning. add rai, jeera and bore and as they splurtter add curry leaves. Pour the seasoning on rasam and mix. Garnish it with lovely green fresh garden picked coriander leaf
Serve it with hot steaming white or red rice .
Eat with accompaniments like papad, or even just a bowl full of rasam as a soup is tasty.
Footnotes:
If the tomato pulp is thick, you can add a little water, boil it and then add the coconut milk.